Looking for new ways to savor this sunny, fuzzy summer stone fruit? From ice cream sandwiches to peach preserves, here are eight scrumptious ways to enjoy this succulent seasonal fruit before they're all gone.
1. Sugar-Free Peaches and Cream Smoothie
This sugar-free peaches and cream smoothie is a bright way to start off your busy mornings, or try it as a pick-me-up in the middle of the afternoon. The delicate sweetness of this smoothie is derived entirely from one beautifully juicy and ripe peach.
The sweet and spicy combination of peaches and jalepeños is near perfection in this easy homemade peach salsa recipe. With just a few simple ingredients, you'll have the perfect summer snack for any occasion.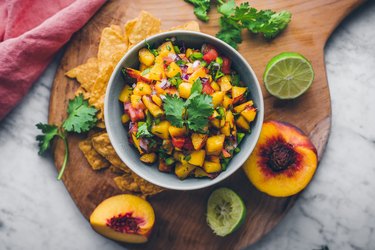 3. Peaches and Pecan Bourbon Ice Cream Sandwiches
Satisfy your sweet tooth by biting into one of these incredibly rich and toothsome peaches and pecan bourbon ice cream sandwiches. Homemade no-churn salted-pecan bourbon ice cream and succulent peach slices are deliciously sandwiched between two chewy oatmeal cookies.
This refreshing peach sangria recipe is perfect for brunch, a backyard cookout and any other summertime get-together. Learn how to make it in just a few easy steps!
5. English Peach and Ginger Chutney
Brighten up tired old appetizers and dishes with a spread of this amazing English peach and ginger chutney. This mildly sweet and tangy chutney pairs wonderfully with pork chops, lamb or chicken, or you can spread it on crostinis and sandwiches. With such a wide array of possibilities, your taste buds won't get tired.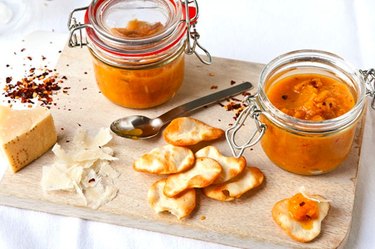 6. Mini-Tortillas With Ricotta Cheese and Grilled Peaches
These mini tortillas with ricotta cheese and grilled peaches may be just the easy snack or dessert option you're looking for. Velvety, light ricotta or ​requesón ​-- a Portuguese and Brazilian cheese -- is spread on a flour tortilla and drizzled with dark corn syrup, then finished with a juicy grilled peach.
Freshly brewed homemade peach tea is a naturally sweet beverage option for your next summer brunch of barbecue. While this tea is already delicious on its own, those who prefer additional sweetness can try honey, stevia or coconut sugar for a healthier alternative to regular sugar.
Ahh, the peach bellini -- a classic cocktail invented in the 1930s or '40s by Harry's Bar in Venice, Italy. Transport yourself to another time and place and discover this beautiful cocktail's timelessness by recreating it at home. With just four ingredients and a food processor, you'll soon delight in the charms of this light and sweet, bubbly cocktail.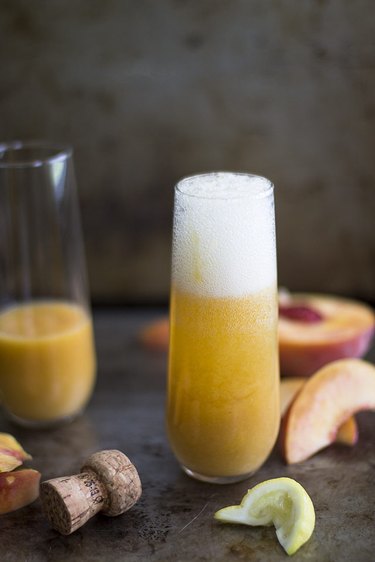 Revel in the flavors of summer, even during the deepest winter, by preparing some peach preserves before the season ends. Peach preserves are deceptively simple to make and can for long-term storage. Make several batches now to give away as Christmas presents for a truly special gesture your loved ones will appreciate.
Just like bananas, overripe peaches are excellent to bake with. Instead of tossing that mushy, overripe peach in the trash, make a mouthwatering peach crisp. The peach filling slightly caramelizes as it bakes underneath a crunchy oat-and-brown sugar streusel. Top it off with a scoop of ice cream, and you've got yourself a lovely simple dessert.