If you've ever visited the beach, you probably know how easy it is to bring back a few seashells as mementos of your vacation. These shells usually get thrown in a box and forgotten, left crumbling away in the back of a closet. On a recent trip to Ireland, I found a few oyster shells and was determined to find a use for them when I got back home. After a quick DIY with some liquid gold leaf paint, I found three different uses for the beautiful oyster shells that I found.
Things You'll Need
Oyster shells (or shells of any kind)

Gilding paint in the color of your choice

Soft bristled paint brush

Food-safe sealant spray (optional)
Step 1
Dip the brush in the paint and brush on the shell in the same direction. You won't need much paint on the brush -- a little bit goes a long way!
Step 2
Let paint dry for at least three hours before handling. If you're using the shells to hold food items like I did, seal the shells with a food-safe spray. When it's dry, you'll have gorgeous gilded oyster shells!
I came up with three different ways to use these shells, but the possibilities are endless! Here are my three favorite uses for painted oyster shells.
1. Jewelry Holders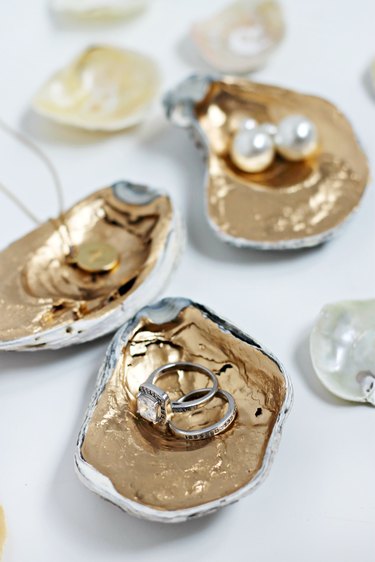 These small shells make the perfect dish for holding earrings, rings, or other delicate pieces of jewelry.
Tip
Place a shell by the sink to hold your rings while you wash your hands or do dishes!
2. Desk Organizers
Use the shells to hold small office supplies, like push pins, paper clips, or binder clips. They add a little bit of glam, while also being functional!
3. Salt and Pepper Holders
Set the table with these gilded salt and pepper holders, and let your guests help themselves to their own pinch of salt!
The possibilities are endless with this project, and the same technique can be applied to other shells as well! With just a few steps, you can have some gilded memories of your own.