Homemade muffins are a special addition to breakfast or brunch. Enjoy them with friends and family, or make them as a grab-and-go breakfast for busy work weeks. Warmly spiced with cinnamon, Morning Glory muffins are made with grated carrot, apple, raisins, walnuts, shredded coconut, and sometimes pineapple. While the list of ingredients is long, the process for baking these muffins is simple and well worth the required steps.
​​This recipe makes 12 muffins. ​​
Things You'll Need
1-1/4 cups all-purpose flour

1 cup shredded coconut

3/4 cup light brown sugar, tightly packed

1-1/2 teaspoons ground cinnamon

1/2 teaspoon sea salt

1 teaspoon baking powder

1 cup grated carrot (about 1 large carrot, peeled and grated)

1 cup grated apple (about 1/2 large apple such as Honeycrisp)

1/2 cup raisins

1/2 cup raw walnuts, chopped

2 large eggs

1/4 cup olive oil or canola oil

2 teaspoons pure vanilla extract

Box grater

2 mixing bowls

Spoon or fork for mixing

12 disposable baking cups

12-hole muffin tray
Tip
To save time, use a food processor to shred the carrot and apple.
Not a fan of gluten? Replace the all-purpose flour with gluten-free all-purpose flour.
For naturally sweetened, refined sugar-free muffins, replace the brown sugar with coconut sugar.
You can choose to use sweetened or unsweetened shredded coconut.

Preheat the oven to 350 degrees F. Grate 1 cup-worth of carrot, and 1 cup-worth of apple.
Add the flour, cinnamon, brown sugar, baking powder, and salt to a mixing and stir together.
Add the grated carrot, apple, raisins, and walnuts to the flour mixture and stir to combine.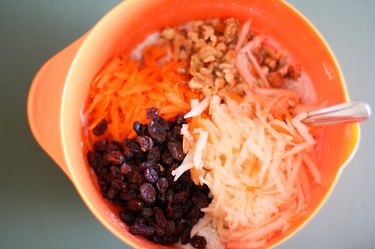 In a separate bowl, whisk together the eggs, oil, and vanilla extract.
Add the egg mixture to the bowl with the flour mixture and stir well until a thick batter forms.
Line a 12-hole muffin pan with baking cups. Scoop batter into the pan using an ice cream scoop or small measuring cup, filling the holes 2/3 of the way up.
Bake on the center rack of the preheated oven for 30 to 40 minutes, or until muffins test clean when poked with a toothpick.
Allow muffins to cool for 10 minutes before serving. Enjoy!