Things You'll Need
Baking dish

Kitchen brush

Salt

Pepper

Colander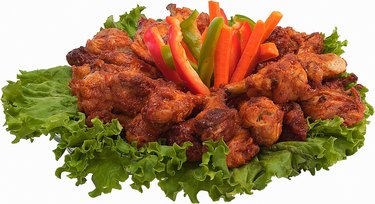 Quick-cooking and juicy, chicken drumettes are a perfect solution to what to have for a busy weeknight meal. Drumettes, or split chicken wings, benefit from a sweet, savory or spicy barbecue sauce slathered on to enliven their flavor and make them finger-licking good. Use the simple oven-baked method to prepare barbecue-sauce-flavored drumettes and have dinner on the table in under an hour.
Step 1
Arrange drumettes in a baking dish and season them with salt and pepper. Preheat your oven to 400 degrees Fahrenheit and place the drumettes in your oven when it is fully heated.
Step 2
Cook the drumettes for 30 minutes and remove the baking dish from the oven. Using a colander placed over the sink, quickly drain off excess fat from the drumettes and return them to the baking dish. Slather the drumettes with barbecue sauce, using the kitchen brush, and return the pan to the oven.
Step 3
Bake the drumettes for 15 more minutes and remove the dish from the oven. Test internal temperature of a large drumette using an instant-read kitchen thermometer to ensure it reaches 165 F.
Tip
To save money, buy wings whole and split them at the joint yourself to create drumettes. Reserve the larger fleshy drumette part of the wing that runs from the shoulder to elbow and resembles the leg's larger drumstick for your meal. Save the wing tips and smaller piece of the wing in the freezer for making chicken stock until you have enough to make a batch.
Some barbecue sauces can be added at the beginning of cooking to infuse even more flavor into your chicken. However, be cautious about adding overly sugary barbecue sauces too early to prevent burning.
Warning
Discard all chicken packaging materials immediately upon using to prevent cross-contamination in your kitchen.
Wash your hands, all utensils and work surfaces that come in contact with the raw drumettes to prevent foodborne illness.