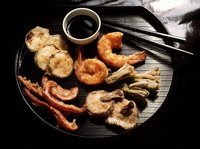 Shrimp tempura is a treat at Japanese restaurants, but you can easily prepare this classic dish at home. Tempura shrimp is coated in a light batter before being fried. You can purchase tempura batter mixes in the international section of most grocery stores, or make your own using flour, sparkling water and egg or baking soda. Consider coating vegetables, such as broccoli, cauliflower or carrots, in tempura as well to complement your shrimp.
Things You'll Need
Vegetable oil
Saucepan
Thermometer
Tempura batter
Shrimp, peeled and deveined
Slotted spoon
Wire rack or paper towel-lined plate
Pour 1 inch of vegetable oil into a medium-sized saucepan. Heat the oil over medium heat until the temperature reaches 350 degrees Fahrenheit.
While the oil heats, prepare the tempura batter.
Dip the shrimp into the tempura batter and quickly drop them into the oil.
Fry the shrimp until they are golden brown, about two minutes for medium shrimp and four minutes for large shrimp.
Remove the shrimp from the oil with a slotted spoon. Transfer them to a wire rack or a paper-towel lined plate to drain excess oil before serving.