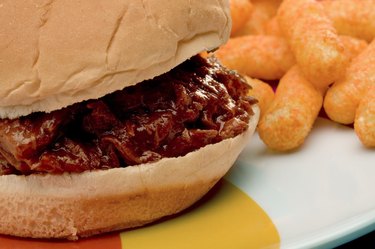 Surprise family and friends with boneless rib sandwiches without getting out the grill. Make the patties from scratch with ground meat such as chicken, beef, pork or turkey. If you're in a hurry, cook commercially prepared patties found in the freezer aisle of the grocery store. Whichever you pick, bake with barbecue sauce to keep the ribs moist and boost the flavor. Serve the patty with traditional sides like coleslaw and baked beans.
Homemade Patties
Step 1
Season the ground meat with spices you'd use for barbecue sauce such as garlic, red pepper flakes, onion powder and a bit of sweetness from brown sugar or maple syrup. Mix the seasonings in well.
Step 2
Shape the meat into rib-shaped patties -- narrow, long and slightly curved.
Step 3
Brown the patties in an oven-proof pan over medium-high heat. Set the pan in a 350-degree Fahrenheit oven and bake for 30 to 45 minutes.
Step 4
Pour barbecue sauce over the patties during the last 10 minutes of baking. Use your favorite recipe or combine tomato juice or sauce with chopped onions, brown sugar or maple syrup and apple cider vinegar or lemon juice. Stir in a good pinch of celery seeds and cayenne pepper or a dollop of hot sauce. Simmer for 10 to 15 minutes. The sauce finishes cooking in the oven.
Frozen Packaged Patties
Step 1
Preheat oven to the degree specified on the package. It's most likely between 350 and 375 F.
Step 2
Check the package to see if it specifies that the tray is oven- or heat-proof. If it is, remove the film from the tray. Place the tray on a cookie sheet. Spoon the sauce over the ribs. Place the cookie sheet in the oven. If the tray is not oven-proof, transfer the ribs to a baking pan.
Step 3
Bake per the instructions, usually 45 to 60 minutes. Midway through the baking time, break apart any ribs that were frozen together.
Tip
Change up the patties by baking with teriyaki or honey mustard sauce. Salsa is another option to replace the barbecue sauce.
Warning
Ground meat including boneless rib patties should be cooked until the internal temperature reaches 165 F for poultry and 160 F for other meats.