Things You'll Need
Baking tray

Parchment paper or aluminum foil

Cooking oil

Honey

Large bowl

Additional glaze ingredients

Instant-read meat thermometer

Baster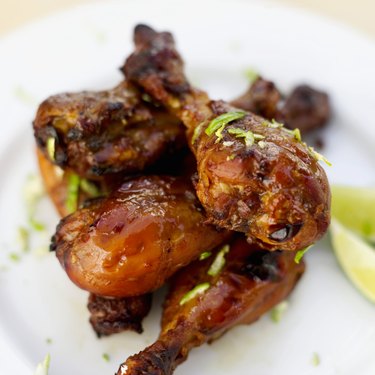 Chicken legs or drumsticks offer juicy, flavorful dark meat in a fun-to-eat package. They're a meatier alternative to chicken wings as finger food for informal gatherings, or a satisfying entree in their own right. It's easy to whip up a quick glaze and dunk the drumsticks, and the hands-off process of baking them is hard to mess up. Just stick the chicken in the oven, and be attentive to avoid overcooking it. With practically endless preparation possibilities, honey-glazed drumsticks are a sweet change of pace from more common savory chicken recipes.
Step 1
Preheat the oven to 475 degrees Fahrenheit. Give it about 30 minutes to heat up. High heat nicely crisps the skin on your drumsticks. Line a baking tray with parchment paper or foil, and grease it with cooking oil.
Step 2
Mix honey with water or cooking oil in a large bowl. Dilute the honey just enough to give it a glaze-like consistency. Make enough to coat all the chicken legs you're preparing. If you like, add a splash or two of soy sauce for saltiness to play off the honey's sweetness, or just add a few pinches of salt. Leave the glaze as is to keep it simple, or add other complementary seasonings to taste. For example, freshly cracked black pepper, cilantro, chili pepper powder, clove or lemon or orange zest work well.
Step 3
Dunk the drumsticks in the glaze one at a time. Pull them out, and let the excess drip back into the bowl. Space them evenly on the lined baking tray, and put them into the oven.
Step 4
Bake the chicken legs for about 35 minutes, until the skin is crisp and nicely browned and the thickest section of meat is cooked to 165 F at center, as measured by an instant-read meat thermometer. Baste the drumsticks with the juices on the tray once or twice during the cooking period, and once again before serving them. If you want to baste with leftover glaze after cooking, first bring it to a boil for 5 minutes to sanitize it.
Tip
Store fresh chicken legs below 40 F, and never leave them out at room temperature for longer than two hours. Cook or freeze them within two days of buying them.