Things You'll Need
Large chef's knife

Large sturdy spoon

Shallow baking dish

Cooking spray

Butter or margarine

Salt

Pepper

Brown sugar

Aluminum foil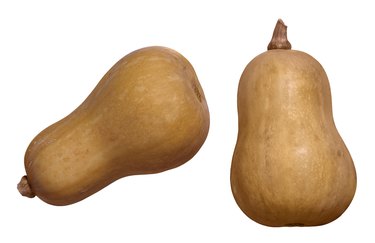 Creamy, bell-shaped butternut squash is a perennial cold-weather favorite. Its versatility makes it a perfect choice for a wide variety of dishes and multiple preparation methods. Baking is one of the easiest ways to prepare this nutrient-rich winter squash. Serve it plain or enhance its natural flavor with seasonings, or stuff it with apples, nuts and brown sugar for a sweet treat. A large bell squash can even serve as the basis for a hearty main dish, if you stuff the center with a mixture of chopped ham, rice and vegetables.
Step 1
Slice about 1 inch off the stem end of the squash with a large chef's knife. Lay the squash on its side on a cutting board. Carefully cut the squash in half, using your hand to press the knife through the entire squash. Next, scoop out the seeds and fibers from the inside of each half. You don't need to peel the squash prior to baking it. However, if you're cutting it up into small pieces after baking, use a heavy-duty vegetable peeler to remove the skin before baking.
Step 2
Place each squash half, cut side up, in a lightly greased shallow glass baking dish or metal roasting pan. Spoon a little butter or margarine into the scooped-out sections, then sprinkle the entire surface of the squash with salt and pepper. For a spicier version, use garlic powder, pepper and and a dash of nutmeg. Or create a dish to tempt even the pickiest eaters by putting brown sugar or a cinnamon-sugar mixture in the scoop, along with some finely chopped pecans and mini-marshmallows. For added flavor, drizzle the seasoned squash with a little orange juice, honey or maple syrup.
Step 3
Bake the squash uncovered in a 350-degree oven for 45 minutes. Because of its heavy, dense flesh, the bell-shaped butternut squash takes longer to bake completely through than some of its lighter cousins. If it is not golden brown and tender after 45 minutes, bake it for 10 more minutes and check it again. If the squash needs additional baking time but is getting too brown on top, cover the dish loosely with aluminum foil and continue baking. Serve the squash halves as individual servings or scoop the cooked squash out of its skin and serve smaller portions.
Tip
For a savory alternative, seed, peel and cut the squash into 1-inch chunks. Spread in a single layer on a lightly greased baking sheet, then sprinkle with salt, pepper and garlic. Drizzle with melted butter, then bake at 350 degrees Fahrenheit for 40 to 45 minutes.