Things You'll Need
Caulk

Door with sidelight or sidelights

Power drill

Screws

Bubble level

Hammer

Finishing nails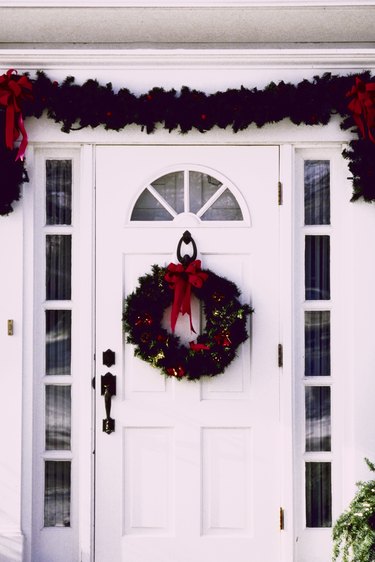 A sidelight is a tall, thin window that is set alongside a doorway. These decorative sidelights give the door more character and allow light to pour into the home. Not all sidelights are the same, as they are made in a large range of designs, glass types, patterns and building materials. Installing one or two sidelights alongside a front door easily sets your home apart with a classy visual statement.
Step 1
Remove the preexisting door from the frame or jamb. You will need to remove the hinges attached to the frame as well so you can install the new sidelights fixture.
Step 2
Set the new sidelight and door combination in the existing frame. Hold a bubble level along the bottom edges of the door to ensure that the opening is level with the frame.
Step 3
Remove the door and sidelight fixtures from the opening and apply several thick lines of caulking to the subfloor beneath the door as well as the sides of the jamb. Place the door and sidelights back into the frame.
Step 4
Nail the door and sidelights into the new jambs with a series of finishing nails. Drill a pair of hinges connecting the door to the jamb with the power drill. Each hinge should be located approximately 1 foot from the top and bottom of the door.
Step 5
Paint, finish and treat the new door and sidelights as you see fit.
Tip
Caulking around the door fixtures helps to keep moisture, the outside temperature and invading insects out.