Things You'll Need
Circular saw

Masonry blade

Sledgehammer

Cedar wood shims

4-foot level

Concrete screws

Hammer drill

Drill

Expanding foam insulation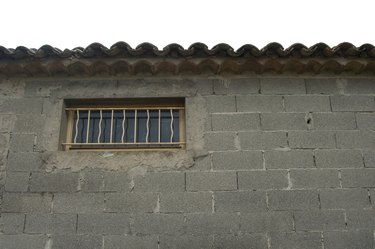 Putting a window into a cinder block wall is a job that typically happens in a basement remodel. Enlarging a basement window or putting a new window where there were only cinder blocks can bring natural light into a formerly dingy basement and transform it into a pleasant living area. Windows are installed in cinder blocks in much the same way as they are installed in wood-framed walls, but they need to be held in place with concrete screws that can penetrate the cinder blocks.
Step 1
Cut a hole in the cinder block wall if you are enlarging an existing wall or putting in a new window. Score the outside surface of the cinder blocks with a circular saw fitted with a masonry blade then knock the cinder blocks out of the window opening with a small sledgehammer.
Step 2
Fit the window into the rough opening. Hold the window in place by inserting cedar wood shims between the window frame and the inside face of the rough opening. Check the level of the frame with a 4-foot level.
Step 3
Drill holes through the side of the window frame and into the cinder blocks with a hammer drill. Drive concrete screws through the frame and into the cinder blocks to secure the window in place.
Step 4
Insulate the gap between the window frame and the rough opening by filling it with expanding spray foam insulation. Use low-expansion foam that is specially formulated for windows so it doesn't expand excessively and warp the window frame.
Tip
Always wear eye and ear protection when working with power tools.