Things You'll Need
Tape measure

Spigot

Masonry drill bit set

Hammer drill

Paint marker

5/32-inch masonry drill bit

3/16-inch concrete screws

Drill/driver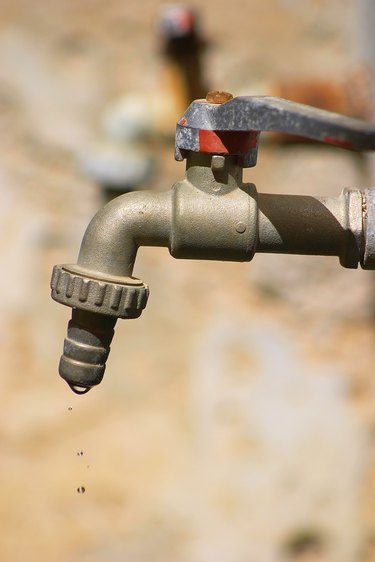 An outdoor spigot -- also known as a hose bib or sill cock -- provides water outside of the house. Surrounding the outside of the spigot opening is a series of male threads that accept a garden hose. Correctly installing the spigot to a wall ensures it will endure the strain applied by a connected hose. Fasteners play a pivotal role in the strength of a spigot installation on any type of wall, especially brick.
Step 1
Stretch a tape measure across the end of the pipe protruding from the back of the spigot to determine the pipe diameter.
Step 2
Secure a masonry drill bit 1/8-inch larger than the pipe diameter -- normally 1 1/8-inch -- in a hammer drill. Drill a hole, starting from the exterior of the wall, through the brick. Move slowly to ensure that the face of the wall does not splinter or chip.
Step 3
Slide the pipe end of the spigot into the hole until the mounting flange sits tight to the brick. Rotate the spigot until the threaded opening is perpendicular to the ground.
Step 4
Push the tip of a paint marker into each of the mounting flange holes. Ensure that the marker has left a dot on the brick at each hole location. Remove the spigot from the hole.
Step 5
Release the drill bit from the hammer drill. Secure a 5/32-inch masonry drill bit in the drill.
Step 6
Hold the head of a 3/16-inch concrete screw against the tip of the drill bit with the screw body resting on the drill bit shaft. Mark the end of the screw on the drill bit with the paint marker.
Step 7
Drill a 5/32-inch hole into the brick at each marker dot -- representing the mounting flange hole. Stop drilling when the mark on the drill bit is even with the outer surface of the brick.
Step 8
Slide the spigot pipe into the brick wall. Align the mounting flange holes with the holes drilled in the brick.
Step 9
Install one 3/16-inch concrete screw into each drilled hole with a drill/driver.
Warning
Wear eye and ear protection when drilling through a brick wall.