Things You'll Need
Drill

Drill bit, 1/2 inch

Threaded hooks, 2

Clothesline wire

Masonry anchors

Hammer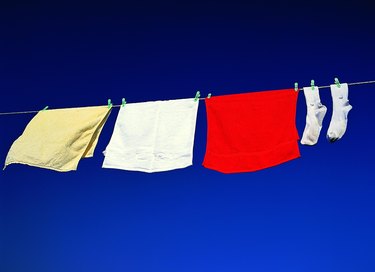 Installing a clothesline is a great way to save money. Allowing wet laundry to air dry, rather than placing it in a dryer, saves electricity and gas. Installing a basic clothesline involves hanging two hooks and tying a clothesline wire to them. The task can be a tricky if you're attaching the clothesline to brick or masonry.
Step 1
Select a location on the brick to hang one of the clothesline hooks. The hook must be installed into the mortar between the bricks, not into the bricks themselves.
Step 2
Use a drill with a 1/2 inch carbide drill bit to create a hole in mortar. The hole should be as deep as the length of a masonry anchor plus an additional 1/4 inch.
Step 3
Place a 1/2 inch masonry anchor into the drilled hole. Use a hammer to tap the anchor until it is flush with the mortar.
Step 4
Insert the threaded end of a hook into the masonry anchor and turn the hook clockwise like a screw. Continue turning the hook until it stops.
Step 5
Attach the other hook to a location opposite the first hook, following the methods in Step 4.
Step 6
Hang one end of the clothesline on each hook. If you are using a premanufactured pulley clothesline, place one end-loop over each hook. If you are using a piece of clothesline cable, tie the ends of the cable onto each hook with a secure knot.