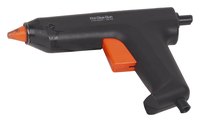 Thermal binding is the process of binding a book using a heat-activated glue. Typically, you would buy commercial glue strips or thermal covers, and press them onto your book's spine in a binding machine. You can make your own glue strips by using a hot glue gun. Hot craft glue does not cure when it cools, so it remelts when you apply heat again. Once you have infused a binding material with the glue, you can store it and cut it into strips as you need them.
Things You'll Need
14-by-16-inch baking sheet
12-by-12-inch gauze or nylon net
Hot glue gun and glue
Put a baking sheet on a flat work surface. Spread a piece of gauze or fine nylon net on top of it. Smooth the gauze or net so it is free of bumps and wrinkles.
Heat a hot glue gun on a low setting. While the glue heats and softens, use a ruler and fabric pencil to draw a series of parallel lines across the gauze or net, either vertically or horizontally. Space the lines 1/2 inch apart.
Apply a thin line of glue over each of the drawn lines, using the hot glue gun. Allow the glue to cool and dry.
Store the glue sheet -- in a clean, dry, cool place -- until you are ready to cut it into strips and use it to bind books.