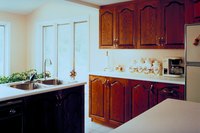 A plain white refrigerator door doesn't always offer the visual appeal you wish to have in your kitchen. Purchasing a new refrigerator is a major expense, so instead add a sophisticated appearance by covering the doors with wood. Paint or stain the doors so the wood blends with your cabinets for continuity.
Things You'll Need
Measuring tape
Wood veneer
Rotary saw
Sandpaper
Paint or stain
Glue tray
Urethane glue
Glue roller
Measure the refrigerator door, accounting for the door handles. Draw the outline of the door onto a piece of wood veneer. Base the outline on the measurements.
Cut the outline of the door out with a small rotary saw. Sand down the edges lightly, and prepare the wood veneer panel for installation by painting, staining or decorating in the method of your choice.
Clean the refrigerator door by wiping it down with a solution of dish soap and water to remove any grease, food debris or other dirt on the surface. Dry the door thoroughly.
Fill a glue tray with urethane glue, a strong agent meant for bonding different surfaces together. Apply a layer of glue with a glue roller to the refrigerator door and to the back of the wood veneer panel.
Line the wood panel up with the refrigerator door and press into place. The glue will bond quickly, holding it on. Avoid handling for 24 hours to allow the glue to bond properly.