Things You'll Need
Wood chisel

Wet rag

Polyurethane glue

Stiff bristle brush

Fascia board

Framing nails or screws

Framing nails

Hammer

New rafter

Screwdriver

Replacement joist hangers

Measuring tape

1-by-6-foot collar ties

8 penny nails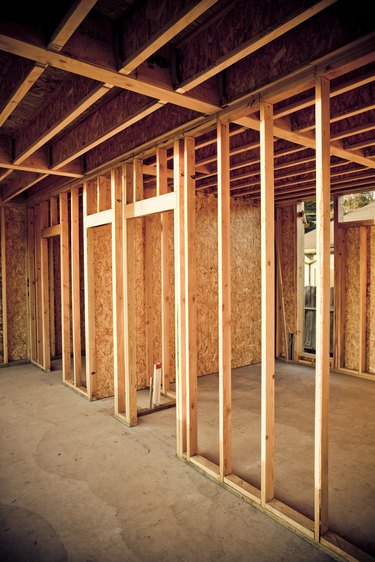 Rafters are the sloped pieces of wood to which roof decking is nailed. Rafters support the weight of the roof and any rain or snow that falls on it. Sagging rafters may be the result of numerous heavy snowfalls or inadequate ceiling joists. Ceiling joists are placed at the ends of the rafters to keep the rafters from spreading out and sagging. Realignment of the rafters may solve the sagging problem.
Step 1
Examine the rafters for cracks and damaged or out-of-alignment joist hangers. Note the location where the damage occurs.
Step 2
Force open the cracked end of a sagging rafter with a wood chisel. Remove the chisel and wet the crack with a wet rag. Spread polyurethane glue into the crack with a stiff bristle brush. Place a fascia board up under the roof sheathing, and nail it with a hammer across the ends of the rafters to strengthen them.
Step 3
Place a new rafter that is the same size as the sagging rafter flush up against the sagging rafter. Fasten the new rafter to the central beam and floor joists with either framing nails or screws. Nail the sagging rafter and new rafter together with framing nails and a hammer to brace the sagging rafter.
Step 4
Reinforce any overlapping ceiling joists with framing nails or screws. Tighten any hangers used to butt the ceiling joists against a beam by replacing the nails or screws in the hangers.
Step 5
Measure about one-third of the rise from the roof peak on every third set of rafters with a measuring tape and mark it. Nail a collar tie on every third set of rafters to prevent the rafters from spreading apart and sagging.