Things You'll Need
Measuring tape

Crown molding pieces

Pencil

Miter saw

One-inch wood nails

Hammer

Wood putty

Fine-grit sandpaper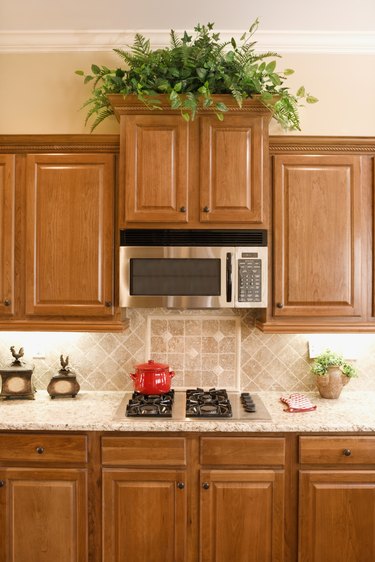 Crown molding adds an elegant touch to any room in your home. While designers typically use molding around the top of the room, it also adds an elegant touch to certain types of furniture, including bookshelves and cabinets. When added to the cabinets in your kitchen, for instance, molding completely changes the look of the space. Crown molding works on any type of cabinets, including those from Thomasville.
Step 1
Measure the height of each cabinet with a measuring tape. Measure the sides of each cabinet and write down those measurements. Depending on the type of cabinets and the size of your kitchen, you might have different-sized cabinets.
Step 2
Transfer the measurements onto the crown molding pieces with a pencil. A pencil is best because you can gently wipe off the marks with a damp towel after cutting. Cut the crown molding into individual pieces: one for each side of the cabinet, following your measurements. Cut a 45-degreee angle on the ends of each piece.
Step 3
Hold one piece of crown molding along the top of the cabinet. Attach a 1-inch wood nail, making sure that the nail goes through the crown molding and into the cabinet. Attach three additional pieces of crown molding to the cabinet, lining the pieces up together.
Step 4
Repeat Step 3 on each cabinet in the kitchen. Make sure that the side of the molding sits even with the edge of the cabinet and that the mitered edges touch each other without any gaps.
Step 5
Apply a dab of wood putty to the top of each nail and smooth down with your hand. Let the putty dry overnight and gently sand the top with fine-grit sandpaper. The sandpaper rubs off any excess putty and leaves behind a smooth surface.
Tip
The number of molding pieces needed depends on the size of your cabinets.
If the color of the crown molding does not match the color of your cabinets, paint the wood. Tape off any areas you do not want painted, and let the paint dry overnight before using the cabinets.