Things You'll Need
Hand-held tiller

Soil

Sod cutter or utility knife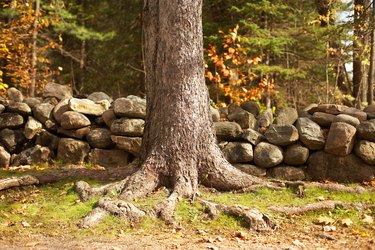 If you have trees in your yard, there will likely be a few roots poking above the ground. These can inhibit grass growth, making a lawn appear bumpy and less than lush. If you're facing this problem, remedy it by covering the exposed roots with sod, returning the green to your yard.
Step 1
Till the area around the tree roots to loosen the soil. Till about 6- to 8-inches deep.
Step 2
Mix soil and fertilizer. Put a layer of about 2- to 3-inches of the soil and fertilizer mixture over the tilled ground and work the mixture into the soil with a rake. Put an 8- to 10-inch even layer of soil and fertilizer over the tree roots.
Step 3
Lay sod over the tree roots, on top of the soil. If the sod needs to be cut to size, do so with a sod cutter or a utility knife, making sure to cut through the roots of the sod. Firmly press the sod into place.
Step 4
Water the newly laid sod. Keep the area thoroughly watered and avoid stepping on the sod for about 2 weeks to allow it to take root.
Warning
Be aware that laying sod over tree roots may cause damage to the tree by stunting its growth. Note that the tree roots will continue to grow, so replacing the sod every few years will likely be necessary.