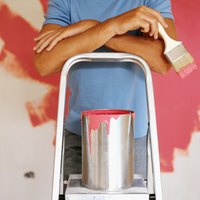 Flat, matte wall paint sometimes looks boring and uninteresting. Jazz up your plain-looking walls by applying a layer of sparkling, shimmery paint. Although shimmery paint is difficult to find in paint supply or home improvement stores, you can make your own shimmery latex wall paint using a few basic arts and crafts and paint materials. This enables you to create more dynamic walls in your home with minimal effort and very little strain on your pocketbook.
Things You'll Need
Empty paint can
Glossy latex wall paint, any color
Clear microglitter
Wooden paint stick
Paint tray
Paintbrush, 3-inch flat
Paint roller
Take off the top of an empty 1 gallon-sized paint can, and fill the can three-fourths full with glossy latex wall paint. Select any color that you prefer.
Add 2 cups of clear microglitter into the paint can.
Stir the mixture with a wooden paint stick for five minutes to thoroughly incorporate the microglitter into the latex paint.
Fill a paint tray with the shimmery latex paint, then coat a 3-inch flat paintbrush in the shimmery paint.
Apply the shimmery paint along the corners and along the top and bottom edges of the wall.
Coat a paint roller in the shimmery paint, then apply the paint over the entire wall in an even layer. Allow the wall to air dry for 12 hours.
Apply a second coat of shimmery wall paint in the same manner as before, then allow the paint to dry for an additional 12 hours.