Things You'll Need
3 tablespoons soy sauce

Small mixing bowl

3 tablespoons water or broth

2 cloves garlic, finely minced

1 teaspoon minced, fresh garlic

1/2 teaspoon sugar

2 to 4 drops sesame oil

2 tablespoons fresh lemon juice

1/3 cup soy sauce

Whisk

3 tablespoons stone ground mustard

1/8 teaspoon rice vinegar

1 teaspoon peanut oil

1/2 cup creamy peanut butter

2 teaspoons soy sauce

1 tablespoon chicken broth

1 teaspoon garlic, finely minced

2 teaspoons barbecue sauce

1/8 teaspoon red pepper flakes or 1 tsp. chili sauce (optional)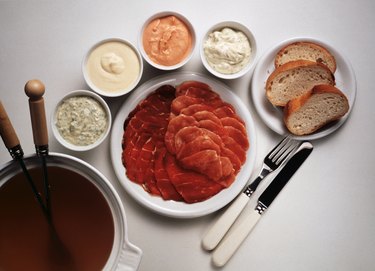 Surround a hot pot filled with savory broth with an array of dippable foods such as shrimp, whole mushrooms, firm tofu, noodles, broccoli florets, or thin slices of beef, pork or chicken. Dip the foods, fondue-style, in the hot pot, and then in a flavorful dipping sauce, which is served in small, individual bowls. Dipping sauces are versatile and easily adjusted to suit your preferences. Make tangy garlic or mustard sauce or a mild peanut sauce.
Garlic
Step 1
Combine equal parts of soy sauce and water in a small mixing bowl. For extra flavor, use chicken broth or vegetable broth in place of water. Use regular soy sauce or substitute low-sodium soy sauce to keep sodium in check.
Step 2
Stir in finely minced garlic, minced fresh ginger and sugar. Blend well.
Step 3
Provide additional flavor by adding a small amount of sesame oil or fresh lemon juice.
Mustard
Step 1
Measure soy sauce into a small bowl. Use regular, light or low-sodium soy sauce, depending on your preferences.
Step 2
Whisk in stone-ground mustard. Alternatively, use Dijon-style or spicy mustard.
Step 3
Add peanut oil and rice vinegar. Mix well.
Peanut
Step 1
Measure creamy peanut butter into a small bowl.
Step 2
Stir in soy sauce and chicken broth.
Step 3
Add finely minced garlic and barbecue sauce. For hot peanut sauce, add dried red pepper flakes or chili sauce.
Tip
Chinese dipping sauces are also good for dipping spring rolls or pot stickers.