Things You'll Need
2 9-inch store-bought pie crusts or pie dough

4-inch cookie cutter or cup

Muffin tin

Cooking spray

Parchment paper

Dried beans or rice

Fork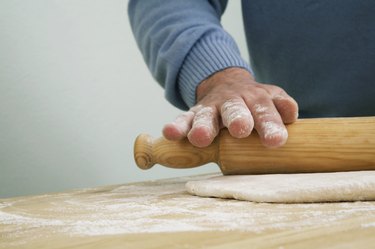 Make miniature pies for a whimsical take on a favorite dessert. You don't need any special equipment, just your favorite pie crust and a muffin tin. Make pies bite-sized by using a miniature muffin tin, all you need to do is adjust the baking time. Before you add your filling, bake the pie shells for a few minutes to ensure that your miniature crusts keep their shape. This process, known as blind baking, prevents the crust from becoming soggy from wet fillings. It's also used for fillings that don't require baking, like custards and cream pies.
Step 1
Roll out the pie dough as you would normally, whether you're making it from scratch or using store-bought crusts.
Step 2
Cut circles from the pie crust using a 4-inch round cookie cutter or cup (For mini muffin tins, use a 3-inch cookie cutter). Two 9-inch crusts should be enough for 12 muffin cups, with some dough leftover.
Step 3
Coat the muffin tin liberally with nonstick cooking spray.
Step 4
Press each pie crust circle into a muffin tin cup. Place the muffin pan in a refrigerator, and allow the crusts to cool for five to 10 minutes. Allowing the crusts to cool will help them keep their shape while they're baking.
Step 5
Cut out 4-inch squares of parchment paper and press them into the pie crusts. Fill each muffin cup with dried beans or uncooked rice. Push the beans or rice right up against the parchment paper to prevent the sides from collapsing.
Step 6
Bake the miniature crusts at 425 degrees F for six minutes. Remove the beans and parchment paper and lightly puncture the bottom of the crust with a fork to allow steam to escape.
Step 7
If the pie filling must be cooked, bake the crusts for an additional minute. Scoop the filling into the crusts and bake them according to recipe directions. If you're not baking the filling, bake the empty crusts for an additional three to four minutes, or until the crusts are lightly golden brown.
Step 8
Allow the crusts to cool completely before removing them from the muffin tin to prevent breaking. If you're having difficulty removing the crusts, run a butter knife around the edge of the crust to loosen it from the pan.