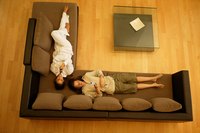 On smooth floors such as wood, laminate and vinyl, sliding furniture may cause unsightly scratch marks. Unstable furniture also exerts wear on couch, and chair legs and may be dangerous for rowdy youngsters. Although store-bought furniture grippers often remedy this common problem, homemade grippers serve the same purpose at a fraction of the cost.
Things You'll Need
Tape measure
Rubber tread
Measure the legs of the furniture you plan to stabilize. Use a tape measure to find the length and width, or diameter, of the end of each leg where it meets the floor -- height is not relevant. If your floor has already developed noticeable scratch marks, measure the rough length and width of the scratched patch. Record the measurements.
Cut pieces of the mat to the measurements you recorded. Use hardware scissors or shears to cut through the thick rubber. Cut square or circular pieces big enough to fit under the furniture legs, erring on the side of cutting pieces too big rather than too small. You can always trim the grippers later. Cut one piece for each furniture leg.
Place the newly made grippers under each furniture leg. Face the smooth, rubber side down and treaded side up to secure your furniture in place.