Things You'll Need
Sewing tape measure

Tailor's chalk

Sewing machine

Thread

Elastic thread

Straight pins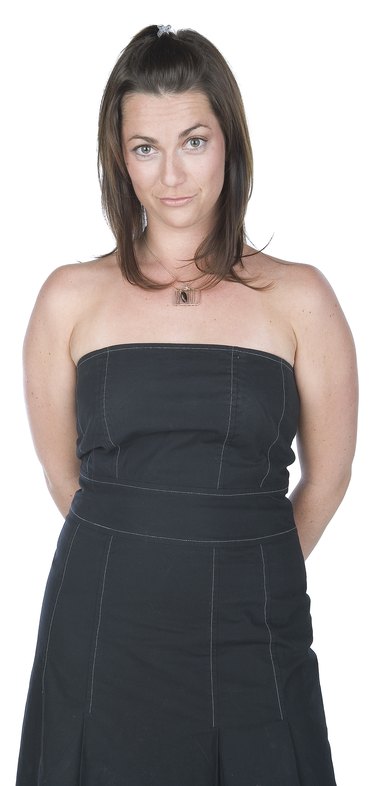 Transform a flirty, sleeveless summer dress into a sexy wintertime fashion essential by adding off-the-shoulder sleeves for some extra warmth. Use the same fabric as the rest of the dress for sleeves that blend in, or let them stand out with a different color or texture fabric. You can make form-fitting long sleeves to keep the dress as sexy as you like, or add billowing bell sleeves to the dress for an elegant and feminine touch.
Step 1
Take some measurements for the sleeves. Measure the circumference of your arm, just below your underarm. Add 1/2 inch to this measurement. Measure down the length you would like the sleeve and add 1 inch. Measure the circumference of your arm here and add 1 inch. For a bell sleeve, multiply the upper arm measurement by 2 for the lower circumference.
Step 2
Draw the sleeve shape on your fabric with tailor's chalk, according to the measurements you obtained in the above step. Cut out the sleeve shape and use it to make a second sleeve. Alternatively, you can add just one sleeve to the dress.
Step 3
Fold the sleeve (or sleeves) in half lengthwise with the good side of the fabric facing inward. Sew a running stitch down the length of the sleeve.
Step 4
Fold over 1/2 inch of fabric along the top and bottom of the sleeve and sew a running stitch. Sew the top of the sleeve with elastic thread. Tug on the elastic thread slightly to gather the top about 1/2 inch. This will make the sleeve fit snugly around your upper arm.
Step 5
Turn the sleeve (or sleeves) right side out. Hold the sleeve's seam against the side seam at the top of the dress.
Step 6
Attach the sleeve to the dress by pinning the sleeve to the underarm of the dress. Pin about 3/4 inch of the sleeve on each side of the side seam. Sew it in place with a running stitch.