Things You'll Need
Protective film

Table cloth

Place mats or thick napkins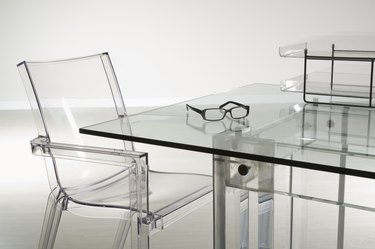 A glass tabletop is often attractive from a decorative standpoint but they do require extra care compared to conventional tables. Even thicker glass scratches if enough force is applied to it at the right angle and tables frequently have items dragged across their surfaces that potentially damage them. Making your glass tabletops scratch-resistant helps make them last longer while keeping them looking their best. Scratch-proofing a glass tabletop is most effective when multiple methods are used.
Step 1
Apply a protective plastic film to the tabletop. The film is often used in public places to protect windows from etching and graffiti. It applies with an adhesive and is long-lasting. Follow all application instructions to ensure it fits properly and that there are no air bubbles trapped underneath it.
Step 2
Cover the table in a tablecloth. Even a thin cloth helps protect the glass against scratching by creating a buffer between the scratching object and the glass.
Step 3
Place thick napkins or place mats at each table setting if people are eating there. The extra padding in "high traffic" sections of the table help ensure nothing gets dropped or dragged that damages the glass. Combined with the tablecloth and the film, the glass is very unlikely to ever scratch.