Things You'll Need
Paper

Pencil

Colored pencils

Chicken wire

Tin cutters

Tissue paper

Spray adhesive

Staple gun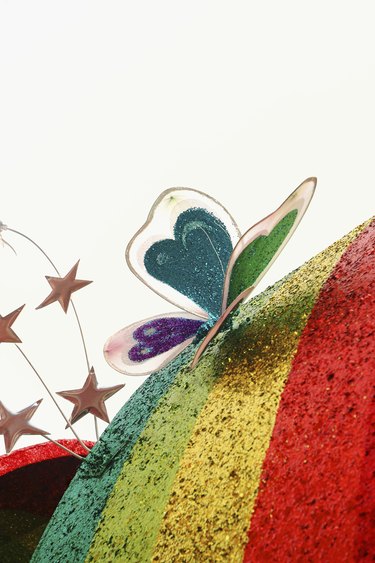 Floats are often pulled along parade routes using a truck or tractor. They are often decorated to promote a particular theme, such as sports teams, characters, businesses or holidays. Tissue paper is often used to decorate the sides of floats, and can be as simple as using a single color throughout the float, or can incorporate intricate designs and pictures. Floral sheeting, which are tissue paper petals attached to sheets of cloth, make decorating floats simple. However, you can also make your own sheeting using tissue paper and chicken wire.
Step 1
Design and draw a sketch of your desired float on a sheet of paper. Use colored pencils to indicate the placement of various colors of tissue paper.
Step 2
Measure the sides of the float trailer, both width and lengthwise. Cut a piece of chicken wire that is 2 inches larger than the trailer's measurements.
Step 3
Spray adhesive onto the chicken wire. Wrap a sheet of tissue paper over your index finger and firmly stuff it into a hole in the chicken wire. For large areas, you can generally place a tissue paper sheet in every two holes. For smaller areas, place a sheet of tissue paper in every hole. Refer to your sketch for tissue paper placement.
Step 4
Lay the chicken wire sheet along the side of the trailer, wrapping it slightly over the top and bottom. Use a staple gun to attach the wire to the trailer.