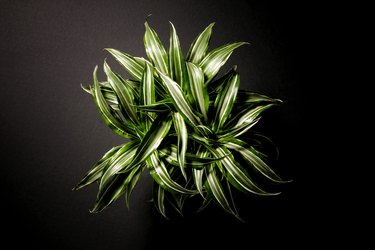 The Dracaena fragrans (USDA hardiness zones 9-12 with some species down to zone 7) goes by quite a few handles: the corn plant, money tree, ribbon plant and false palm. This evergreen is popular because it is so easy to grow indoors and outdoors and is known for its long, sword-shaped leaves that grow in green, gold and other colors. Since they are tropical plants, they won't survive frosts, but they can sometimes survive outdoors when covered. They can do very well as houseplants, though.
Dracaena Fragrans Flowers
When grown outside, Dracaena fragrans can grow up to 20 feet high; indoors, they are more manageable and generally top off at 4 to 6 feet when grown in containers. They produce bright green, narrow and parallel-veined leaves that usually get to be approximately 2 feet long and 3 inches wide. When thriving, they produce branches of clustered itty-bitty pink or whitish-yellow flowers. Though red berries can follow after these flowers, they rarely appear on indoor versions of the plant due to the difference in growing conditions.
You can't really predict when a dracaena will flower, mainly when they are houseplants. Although the most common bloom times are late spring to early summer and late fall to early winter, some go for many years without blooming. The best way to encourage flower production is to replicate their natural growing conditions as closely as possible, which is not always possible indoors.
Optimum Growing Conditions
Dracaena fragrans prefers low light, and while the direct sun can burn its leaves, light that is too low can make the foliage narrower or cause the stripes to fade. Look for a good spot in your home that offers bright to moderate filtered light where the temperature remains above 50 degrees Fahrenheit; 70 to 80 degrees is even better. Put your in a pot with drainage holes and a saucer beneath to catch the water. They are not all that picky about their dirt, so you can use an average bagged potting soil.
You should keep the soil moist, but you need to give it less water during the winter. Too much water will lead to root rot. Some experts recommend using filtered water, as these plants can be sensitive to chlorine and fluoride. Be careful when watering because the plants are susceptible to root rot if the soil becomes waterlogged.
Pruning for Better Growth
The plant's flower has a noticeably strong fragrance and can fill your home with a lovely scent. They also produce a lot of pollen and nectar, to which some people can be sensitive, and the mess can be annoying to clean up. If you do want to encourage your Dracaena fragrans to flower, mimic the optimal growing conditions and you should have some success.
When the flowers start to bloom, be vigilant about removing the spent flowers after they start to wilt. Do this with a sharp pair of pruning shears or scissors but just cut the flower stalks at the base. This pruning will cause the plant to direct more energy into producing more flowers. Do not remove the stems or leaves. Another way to get them to bloom more often is to repot them when their roots get too large.
Dracaena fragrans is known to be toxic to dogs and cats. If pets ingest any part of the plant, it can lead to dilated pupils (in cats), hypersalivation, diarrhea, vomiting and other unusual behaviors, like lethargy and depression.