Things You'll Need
Disposable plates

Napkins

Toothpicks

Plastic utensils

Disposable cups

Drinks

Bread slices

Sliced deli meats

Sliced deli cheeses

Large platters

Condiments

Snacks

Fruit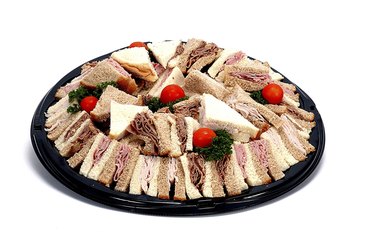 Sandwich buffets, whether set up for an office party or a home gathering, are a simple way to offer a variety of food to your guests as a healthy meal option for a relatively low expense and easy clean-up. A sandwich buffet allows you feed a large group of people who may have varying tastes by having a number of different sandwich options, from breads and proteins to cheeses and condiments, for your guests to choose from. Setting up a sandwich lunch buffet requires having a number of platters, whether premade sandwiches or sandwich fixings, prepared ahead of time.
Step 1
Set up plenty of disposable plates (either paper or foam), napkins, toothpicks and plastic utensils. Set up a separate section with cups and cold drinks, such as two-liter bottles of soda and small bottles of water, fruit juices and teas.
Step 2
Choose a selection of different breads, deli meats and cheeses and make several sandwiches in advance. Choose breads, such as wheat, white, rye and pumpernickel. Select meats such as ham, turkey, roast beef and salami. Choose cheeses such as Swiss, American, provolone and mozzarella.
Step 3
Make the sandwiches in a number of different combinations. Make ham sandwiches using all types of bread. Repeat the same process with all remaining breads and meats, such as Swiss cheese with turkey and roast beef and ham. Select American cheese for ham and roast beef sandwiches. Use mozzarella for ham and salami sandwiches and provolone for ham, salami and roast beef sandwiches.
Step 4
Cut the sandwiches into quarters or halves. Arrange them either with the same type of sandwiches on large platters or mix and match. Create several different platters. Make several condiment bowls featuring different kinds of mustards, such as Dijon and yellow, as well as mayonnaise, ketchup and pickles (both slices and spears). Additional condiments to include are olives (both green and black), sliced tomatoes, sliced onions, lettuce leaves (such as Romaine or iceberg), banana peppers, jalapeno peppers and salsa.
Step 5
Arrange the sandwiches on a central table that allows the platters to be easily accessed on all sides of the table. Set the line up so that function attendees are able to get their plates, napkins and plastic utensils before selecting their sandwich. Place the condiments at the end of the line, along with bowls of snacks, such as potato chips, pretzels and cookies, and whole or cut fruit.
Step 6
Replace the platters with fresh sandwiches when the selection gets low. Replace or fill the condiment and snack containers when they get low as well.
Tip
Set up a table that allows the attendees to make their own sandwiches rather than choosing a premade sandwich. Set the buffet line up in the same manner, but offer a diverse selection of breads on one platter and a selection of deli meats and cheeses on additional platters.