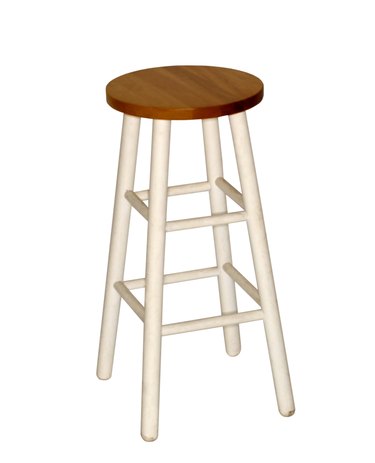 Putting a bar in your home means you can entertain and throw parties whenever you want, and having that bar means also having a number of bar stools available. Bar stools are designed to swivel freely, but sometimes the swivel movement is accompanied by an unpleasant squeaking noise. If the bar stools in your home bar area are squeaking, isolating the source of the noise is a vital first step to fixing it.
Step 1
Turn the bar stool on its side and examine each of the bolts on the legs. Tighten any loose bolts, then reposition the bar stool and check the bolts on all the other legs.
Step 2
Flip the bar stool so that it is resting on its seat. Examine the condition of each of the bolts that secures seat to the frame. A loose bolt can cause the bar stool to squeak, but it can also become a safety hazard.
Step 3
Tighten the bolts that secure the bar stool seat to the frame as much as possible. Flip the bar stool right-side up and swivel the seat. Listen for any remaining squeaks.
Step 4
Open a can of a high-quality spray lubricant. Spray the lubricant on the areas that are still squeaking. This will lubricate the bolts and help eliminate the squeak.