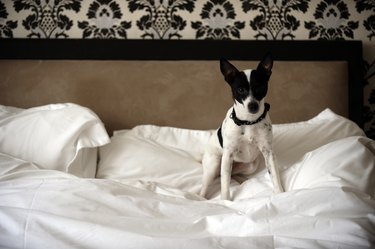 A headboard gives vertical interest to a bed and adds to the decor of the bedroom. But sometimes the headboard isn't quite flush with the mattress -- there is a gap between the two. This is common when you have a floating metal bed frame. Not only is the gap unsightly, your pillows and other small items could also fall back behind the mattress. All you need is a simple adjustment to fix this minor issue.
Step 1
Inspect the area between the mattress and headboard to see if something is causing an obstruction. If so, remove it and try to push the mattress back into place. Remove the mattress from the bed completely if that doesn't help.
Step 2
Stand at the bottom end of the bed and try to push the box spring until it hits the headboard. In many cases, when there's a gap between the headboard and mattress it is simply because the box spring isn't positioned correctly.
Step 3
Remove both the mattress and box spring if this still doesn't fix the situation. The bed frame is the likely issue -- sometimes the protroding edges hit the headboard and cause a gap. Adjust the bed frame so that it is wider than the headboard by unhooking it at the middle and widening the frame. Place the hook into the next available groove. Push the frame back against the headboard. Add the boxspring and mattress back to the frame and push them flush with the headboard.
Tip
If the gap persists, you might have to purchase a new headboard. Another option is to purchase a gap filling pillow designed for this common bed problem.