During the 1950s, poodles inspired fashion statements. Teens sported poodle haircuts and poodle socks not only in classrooms, but also for social occasions at soda fountains and sock hops. Girls added poodle appliques to flared knee-length skirts. Make your own poodle applique to add a nostalgic 50s flavor to clothing or accessories.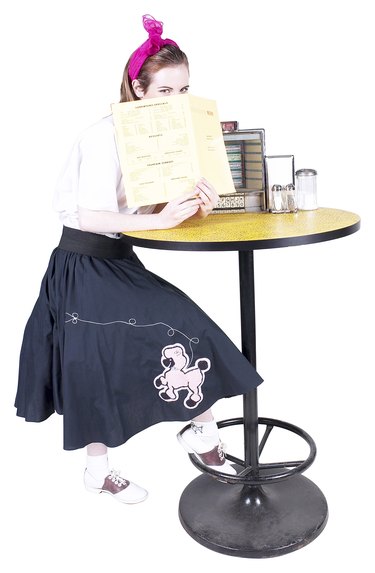 Things You'll Need
Scissors

Pins

Felt Material

Tape Measure

Needle

Chalk Line

Fabric Glue

Decorations

Thread
Select a Poodle Design
Step 1
Find poodle designs from a variety of sources. Books, magazines and online sources offer poodle patterns. As an alternative, create your own poodle design from looking at images of poodles.
Step 2
Decide on the poodle's appearance. Follow the traditional poodle silhouette applique. Other skirts showed the front of the poodle, with details including eyes, nose, mouth and collar.
Step 3
Choose felt material for the poodle applique. Select the traditional black or white for your poodle silhouette. Experiment with other 1950s candy colors, such as pale or hot pink, depending on the color of the poodle skirt.
Making the Poodle Applique
Step 1
Spread the felt material on a work table. Put the poodle image on top of the felt and pin it in place. Use scissors to carefully cut out the poodle applique.
Step 2
Add details to the applique. Cut out a felt leash or use ribbon that travels from the poodle's collar around the skirt up to the waistline. Stitch the leash in place, or glue it.
Step 3
Decorate the applique with 50s notions you can sew or glue. Use rhinestones or colored imitation jewels for the poodle's eyes and collar. Attach fake fur trim for the poodle's ears, chest and pom-pom tail. Add a satin or velvet ribbon on the poodle's head and tail.