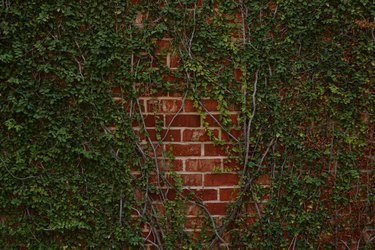 Creeping fig (Ficus pumila), also called climbing fig, is easy to grow and a popular option for covering fences and walls since the vines easily cling to surfaces as they grow. These vines grow in U.S. Department of Agriculture plant hardiness zones 8 to 11. While this vigorously growing plant is a great low-maintenance option for your garden, it can become invasive if you don't cut it back regularly. Whether you are trying to remove invasive vines or simply want to remove the creeping fig to change your landscape, be prepared to put in a bit of hard work and have the patience to fully remove the vines.
Removing Creeping Fig Vines
Manually removing creeping fig vines is usually the best option, especially if the vines are growing on trees and near other plant life that you want to keep alive. However, it can be labor intensive depending on how many vines you have on your property.
Start by cutting up the vines. If the vines are growing along the ground, you can pull them up and discard them. However, you don't want to pull vines down from trees or fences, as this can cause damage. Cut the vines close to the soil level. Then, make another cut about 2 feet above ground level, discarding the removed piece of vine. This cuts off the vine from water and soil nutrients so you can allow the remaining climbing fig vine to die, decompose and fall off the structure naturally.
If possible, remove the roots from the ground to prevent them from resprouting. If the creeping fig is well established, it can be difficult to remove all of the root material. Take care not to damage the roots of surrounding plants.
A nonselective herbicide, such as glyphosate, is effective at killing creeping Ficus pumila vines. However, since it is nonselective, it will also kill surrounding plants. If you want to clear out an area and completely start over, you can apply the glyphosate to the vines to kill them off. However, if you want to save the other trees and plants, more care is needed.
One effective option is to cut the vines at the soil level. Then, carefully paint the open wound on the vine with glyphosate. This will help to kill the roots. You may need to repeat this a couple of times if new shoots appear.
Creeping Fig Vine Considerations
Creeping fig vines can grow up nearly any structure, and since they can grow in both full sun and partial shade, few spaces are safe from these spreading vines. If you have a creeping fig on the wall, take care when removing it, as the vines stick to the walls. They can also damage structures made of wood, so don't let this vine take over and grow up the walls of your home. Be prepared to paint or repair the wall after removing the vines.
The plant can also damage your trees if it is allowed to grow on them. The vines can smother the tree and compete with the tree for sun, water and soil nutrients.