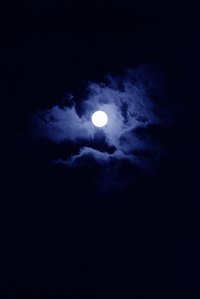 Subtle layers of paint are used to give a painting of the moon a soft, glowing effect. Placed against a darkened night sky, this effect gives a painting a sense of depth and atmosphere. An artist creates a wash by mixing acrylic paint colors with varying amounts of water. This wash is then applied lightly and gradually to bring out the subject in the painting. Add a realistic glowing moon to your painting to give it a romantic or enigmatic feel.
Things You'll Need
Canvas
Bowl of water
Large paintbrush
Black acrylic paint
Hairdryer
Medium paintbrush
Blue acrylic paint
White acrylic paint
Small paintbrushes (various sizes)
Lay the canvas flat on a clean work surface.
Apply a coat of black acrylic paint to the entire surface of the canvas using a large paintbrush. Dry this layer with a hairdryer and apply a second coat.
Use a medium paintbrush to apply a coat of blue acrylic paint to the center portion of the canvas while the second coat of black paint is still wet. Create uneven edges about two inches away from the edges of the canvas to simulate a cloudy night sky. Dry this layer with a hairdryer when finished.
Mix one part white paint with two parts water to create a thin white wash. Apply this wash to the center of your painting with a medium paintbrush. Gently and gradually brush the mixture on in the shape of a circle, but keep the edges soft and faded. Use a hairdryer to dry this layer when finished.
Create a thicker wash by mixing one part white paint with one part water. Start in the center of the previous wash and work outward with a medium paintbrush to intensify the glow effect. Keep this layer smaller than the previous wash so that both remain visible.
Add the moon to the painting. Draw in the outline of the moon with white paint using a small paintbrush, then fill it in completely with the white paint.