Things You'll Need
Glass cleaner

Paper towels

Liquid dish soap

Toothbrush

White vinegar

Cloths

Baking soda

Terry cloth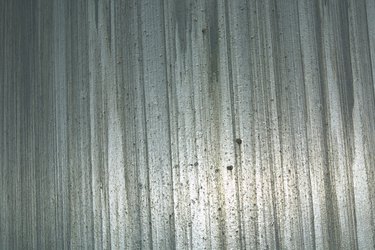 A stainless steel stovetop has a pristine appearance that easily shows stains and other spots. Brown spots can develop on the stainless steel surface if you use the wrong cleaning solutions or if rust begins to develop. Remove these stains with mild cleaning solutions, and don't ever use strong chemicals such as bleach, as they can damage or discolor the stainless steel.
Step 1
Spray the entire stovetop with a glass cleaner. Pay special attention to ensure that the brown spots are completely covered.
Step 2
Wipe the brown spots up with a paper towel. Depending on how old the stains are, this may not completely remove them.
Step 3
Apply 1 drop of liquid dish soap to each brown spot.
Step 4
Scrub the liquid dish soap with a wet toothbrush in the direction of the stainless steel grain. Work until the brown spots are gone.
Step 5
Soak a clean cloth in white vinegar, and rub it over the stainless steel stovetop. The white vinegar helps neutralize the liquid dish soap, and it also helps lighten any remaining brown spots.
Step 6
Sprinkle baking soda over the brown spots if you can still see them.
Step 7
Rub the baking soda into the brown spots with a damp terry cloth, which has a raised nap that helps scrub the stovetop. Work until the stains are completely gone.
Step 8
Rinse the stovetop with water, and dry it completely with a clean cloth. Buff it with a clean cloth to polish the surface and to prevent water streaks.