When you are teaching young children about basic chemistry, you can make the lesson more exciting and understandable by providing the kids with a hands-on activity that is related to chemistry. For example, show the kids how to make gooey slime using ingredients that can be found around the house, such as cornstarch and white glue. The children will feel more involved and excited to learn about chemistry if they can create such a playful creation.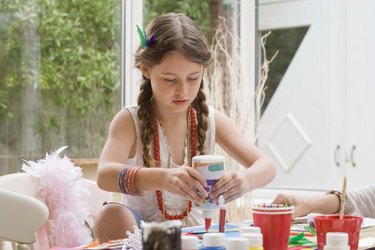 Things You'll Need
1 Cup Cornstarch

Measuring Cups

2 Cups White Craft Glue

Spoon

5 Drops Food Coloring

Bowl
Step 1
Place a bowl onto a flat surface. Pour 2 cups of white craft glue into the bowl.
Step 2
Pour 1 cup of cornstarch into the glue. Stir the mixture for two minutes, using a spoon.
Step 3
Pour 3 cups of warm water and five drops of food coloring into the bowl. Stir the mixture for two minutes to combine the ingredients completely. Select any color of food coloring that you prefer.
Step 4
Allow the mixture to sit undisturbed for five minutes to allow it to congeal and transform into a gooey slime.