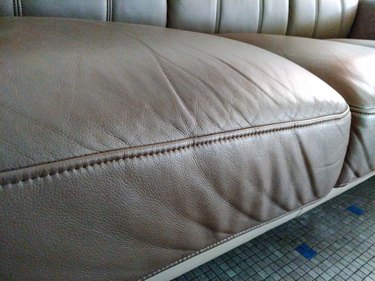 That ugly couch you inherited saved you from having to plunk down megabucks to buy a new one. While the ugly piece really is still in good shape, you're perplexed at how to decorate around it to make it more pleasing to the eye as you wonder if that's even a possibility. When you need to make do with what you have, it's time to disguise -- and accessorize.
With a patterned sofa, choose one of the colors you like in the pattern or the one you dislike the least. Most patterns typically have at least one neutral color that you can elevate with a shiny metallic. Beige plays off gold, white and gray work with silver and brown with copper.
For a sofa with one solid neutral color -- rejoice because you have endless possibilities. Pull a favorite accent color from a nearby rug, lamp, curtains or wall art that you can repeat on the sofa with pillows and a throw.
A sofa in one solid hideous color is a little trickier to work with. Start with some pattern-rich neutral fabrics to draw attention away from the upholstery. Consult a color wheel to explore options for other tints, tones and shades of said hideous color that appear less ugly or to find harmonious accent colors.
Ugly Couch Decorating Materials
Look for items you may already have around the house to decorate on and around your ugly couch. Look for such items as:
Accent pillows, lightweight blankets or throws
large canvas prints or framed art to hang above the couch
coffee table, large coffee table books, floral arrangements
accent chair with brightly colored or boldly patterned upholstery or

sofa table, tall table lamps, woven baskets or ottomans for a floating sofa.
Supplement what you don't have with new decor and use the following tips to decorate with these items.
Layer with Pretty Fabrics
Drape a fringed blanket or throw folded lengthwise down the center of the sofa for a modern twist. If you want to hide more of the back cushions, drape the throw lengthwise over the back. Use a solid colored throw on a patterned sofa or a patterned throw on a solid sofa.
Layer on a mix of solid and patterned accent pillows -- the larger the better -- to cover as much of the sofa as possible. Five large pillows can usually cover a three-cushion sofa. Here is where you can ​mix in​ ​metallic accents​, using solid metallic pillows or metallic patterns on neutral or colored pillows. Stick with about three colors to keep the look cohesive, such as two neutrals and a metallic or one accent color, one neutral and one metallic.
Distract with Bold Accents
Your ugly couch should be looking much better with the help of pretty fabrics. Add a few bold accents around the sofa, so that what lurks beneath those pretty fabrics fades even more into the background.
Hang a large, eye-catching canvas print or framed art on the wall behind the sofa. The wall art should be roughly ​two-thirds​ the length of the sofa and the bottom of the frame should be no higher than ​8 to 10 inches​ above the sofa's back.
Distracting Furniture Accents
Position a coffee table in front of the sofa and add several large coffee table books with attractive covers. Include a floral centerpiece to inject a bold splash of color that is certain to draw the eye away from the sofa.
Place an accent chair on the diagonal on either side of the sofa. Choose a chair with a bold color, upholstery pattern or dynamic shape that complements the surrounding decor while taking the focus off of the ugly couch.
Accenting a Floating Sofa
If your sofa is floating, meaning it sits in the middle of the room positioned toward a focal point, place a sofa table behind it. Add a couple of tall, stylish table lamps near each end of the table with decorative knickknacks in between. Place a few ottomans or large woven baskets underneath to disguise the ugly couch on the other side.