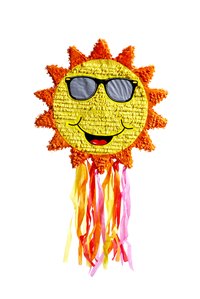 Homemade pinatas are fairly inexpensive to make because they use items already found in the home. There are several different substances that can be used to create the pinata including glue, a mixture of flour and water and liquid starch. Liquid starch may be preferred by some because of its ability to dry clear while keeping the surface of the pinata smooth.
Things You'll Need
Balloon
Liquid starch
Large bowl
Newspaper strips
Pin
Utility knife
Paints
Paintbrush
Candy
Blow up a circular, oval or heart-shaped balloon. Tie a knot at the bottom of the balloon and set it aside.
Pour 1 gallon of liquid starch in a large bowl. Dip one newspaper strip at a time in the starch, removing excess starch from the newspaper strip with your fingers.
Place the newspaper strips on the balloon one at a time. Slightly overlap the strips so that the entire balloon is covered in a layer of paper mache.
Set the balloon aside for 24 hours so that the starch covered newspaper strips have time to dry in place. Repeat with another layer of coated newspaper strips.
Wait another 24 hours. Stick a pin through the newspaper strips until you hear the balloon inside pop.
Cut a small flap in the top of the pinata with a utility knife. The hole only needs to be big enough to stuff candy through.
Paint the pinata. You can make it one solid color, or add designs. You can even paint "Happy Birthday" on the pinata if you are celebrating a birthday.
Give the paint two to three hours to dry. Fill the inside of the pinata with candy.