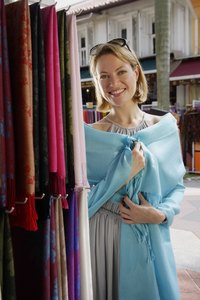 Shawls are stylish fashion accessories that can add a finishing touch to any outfit. Knit your own shawl using a large gauge long loom and bulky weight yarn. This simple and quick pattern requires no previous knitting skill and can easily be adapted for all sizes. Bulky weight yarn is available at craft stores and online in a wide variety of textures and colors, ensuring you can find one that complements your personal style.
Things You'll Need
600 yards of 5 weight or bulky yarn
22 inch long loom or other large gauge loom with at least 60 pegs
Stitch marker
Loom tool
Scissor
Yarn needle
Place a stitch marker on your starting peg.
Tie a slipknot in your yarn and attach it to the starting peg.
E-wrap the next 59 pegs in a clockwise fashion by bringing the yarn in front of the next peg then towards the inside of the loom and then wrapping it around the peg from back to front. This will create a loop on the peg. You will have 60 pegs wrapped.
Working back from the last wrapped peg to the first, e-wrap all 60 pegs again, ending with two loops on every peg.
Use your loom tool to knit off each peg, taking the bottom loop up and over the top loop and off the peg. You will now have your first row of 60 stitches cast on.
Work Row 1 by slipping the first stitch, purling the next 58 and knitting the last stitch.
Work Row 2 by slipping the first stitch and then knitting across the row. Row 2 begins with the last stitch knit in Row 1.
Continue alternating Row 1 and 2 until your shawl is 72 inches long.
Begin to bind off your work by knitting the first 2 stitches.
Move the loop from the second peg to the first peg, leaving two loops on the first peg. Knit over. This will end with one loop on the first peg and no loops on the second.
Move the loop from the first peg to the second peg, which is empty.
Repeat Steps 10 through 12 until only one stitch remains on the last peg.
Cut your working yarn, leaving a 6 inch tail.
E-wrap the last peg and knit over, pulling the tail through the stitch.
Bind off all stitches using a flat removal stitch.
Trim your working yarn and use a yarn needle to weave in any ends.
Block your shawl using the proper technique for the yarn used.