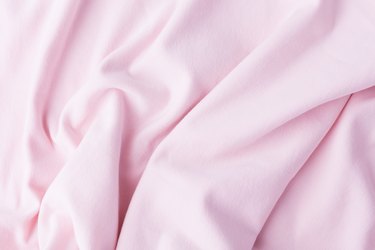 The late Mitch Hedberg once joked that the shirt he was wearing was dry-clean only, "which means … it's dirty." He might well have added that it's wrinkly too. When we contemplate care for dry-clean-only clothes, many of us are nervous about exposing them to water or heat or to otherwise stray from the manufacturer's recommendation to hand the clothes over to the dry cleaner. However, the dry-cleaning process includes both moisture and high temperatures.
There are safe ways to care for dry-clean-only clothes that can lengthen the time needed between full cleanings, which can get expensive as well as time consuming. In particular, it's very possible to remove wrinkles from dry-clean-only clothes without risking damage to the fabrics. Test any de-wrinkling method on a small, hidden area of the fabric first.
The concentrated heat of an iron can ruin garments made from fabrics like wool and cashmere by crushing their fibers. By contrast, treating your dry-clean-only clothes with a steamer can relax wrinkles as well as generally refresh the garment by fluffing up the yarns in the fabric. Steaming removes wrinkles, gets rid of odors and removes allergens that can attract dust mites. It's a great way to prolong the time between dry cleanings for garments made of suitable fabrics.
Silk and silklike synthetics, wool and woollike synthetics and cashmere are fabrics that can be de-wrinkled and refreshed by treating them with a garment steamer. Suede, plastic or waxed fabric should not be steamed, as they can be damaged by even a low level of heat. Steamers can remove wrinkles from sturdier fabrics, like cotton or linen, but they are not a great solution if you desire a crisp finish on these clothes.
Remove Wrinkles With a Garment Steamer
Start by hanging up the item while letting the steamer fully heat. On every use, the steamer should be refilled with fresh water. Be careful not to overfill it and remember to empty the steamer when you're finished with it.
When the steamer is fully heated, move the nozzle from top to bottom across all surfaces of the fabric. Don't worry if the nozzle touches the fabric, as this is unlikely to cause damage. If the garment is lined, turn it inside out and steam the lining first. Let it dry before steaming the outer fabric. Let the garment dry for 15 to 20 minutes before assessing whether further treatment is needed. If you're still seeing wrinkles, go ahead and do another pass with the steamer.
Remove Wrinkles Without a Steamer
If you don't want to buy a steamer, other methods for removing wrinkles do exist. For a wool garment, try spraying it lightly with water holding the spray bottle at least 6 inches away from the fabric to avoid saturating it and then smooth wrinkles firmly with your hands. Allow the fabric to dry fully and repeat this treatment if needed.
For wrinkles that don't respond to a simple water treatment, there are numerous wrinkle-release sprays on the market. You can try the dry-cleaning alternative Dryel, which comes with an odor- and wrinkle-release spray. Some experts recommend Downy Wrinkle-Releaser Plus as the best choice for dry-clean-only clothes.