Things You'll Need
yarn

knitting needles, either straight or circular

scissors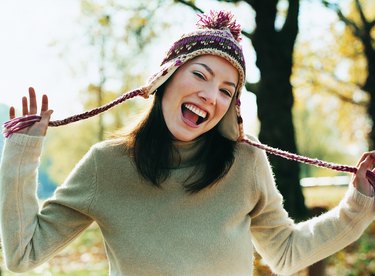 A knit hat is one of the best gifts you can make for a friend, or even for yourself. A hat is not nearly as strictly measured as other knit projects, such as sweaters. When knitting a hat, you have the freedom to deviate from the pattern without sacrificing fit. Ear flaps can give a hat more personality and more functionality.
Step 1
Knit the entire body of the hat and bind off. If using a hat that was made previously, count or estimate the number of stitches along the brim.
Step 2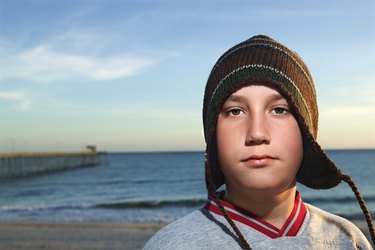 Calculate where you want the ear flaps on the hat, and how wide you want them to be. For example, if the circumference of your hat at the brim has 100 stitches, you may decide that you want each of the ear flaps to be 20 stitches wide, leaving the front and back brim with 30 stitches each. Try on the hat and make sure that the ear flaps will cover your ears without being too wide or narrow for your liking.
Step 3
Pick up the number of stitches around the brim that you will use to knit one ear flap, using your needles and yarn. Continue to knit, lengthening the ear flap from the brim of the hat downward. Add any texturing or colorwork to your knitting that you would like.
Step 4
Shape the ear flap as you knit, according to your preferences. For example, decreasing the stitches at each side of every row can create a more triangular ear flap, while spacing out your decreases every few rows can make an ear flap with a softer and rounder shape.
Step 5
Bind off the stitches for the first ear flap. Repeat process for the second ear flap.
Tip
It can be helpful to write out a pattern before beginning to knit your ear flaps.
If adding a pattern to one of the ear flaps, reverse the pattern to create a mirror image on the second ear flap. This ensures that they will look identical when completed.
Consider attaching strings, pom-poms or any other decorative touches to your ear flaps.