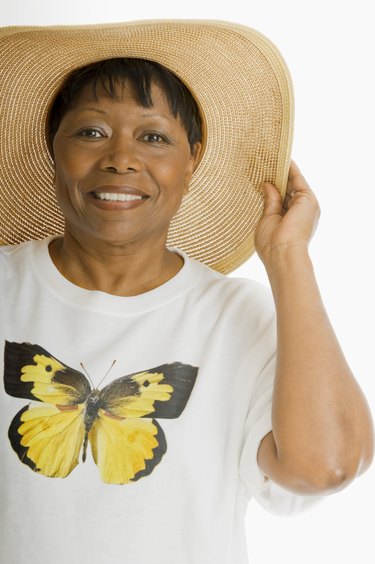 If you have recently lost weight, you will be purchasing a lot of new clothing in smaller sizes. Although this can be fun and exciting, it can become very expensive. You may prefer instead to alter some of your larger-sized clothes, especially if you have not yet achieved your goal weight and are continuing to lose. With some basic sewing skills, you can take your T-shirts down a size and extend the amount of time you will still look and feel good wearing them.
Things You'll Need
Tailor's chalk

Straight pins

Correctly-fitting T-shirt

Scissors

Sewing machine

Matching colored thread
Step 1
Turn the large shirt so the wrong side is facing you. Cut open the side seams with scissors and cut around the armhole seams of the large shirt to separate the sleeves from the shirt.
Step 2
Lay the body of the large shirt on a flat work surface. Align the cut edges, with the front and back sections folded at the top along the shoulder seams.
Step 3
Turn the smaller T-shirt wrong side facing you, sleeves turned to the inside, and lay it on top of the body section of the large T-shirt. Align the shoulder seams. Trace the outline of the side seams and around the armhole seams of the smaller shirt using tailor's chalk. Remove the small shirt.
Step 4
Place pins inside the chalked line, about 1/8 inch from the line. Cut along the chalked line, through both layers of the fabric.
Step 5
Sew both new side seams with a seam allowance of about 1/4 inch using a straight stitch on the sewing machine, matching the width of the seam allowance on the small shirt.
Step 6
Lay the shirt on a flat surface with the wrong side facing you. Turn the sleeves so the wrong side is facing you. Place the sleeves into the armholes, aligning the side seams of the shirt with the seams of the sleeve. Pin in place.
Step 7
Sew around the armhole seam, leaving about 1/4-inch seam allowance. Clip all excess threads.