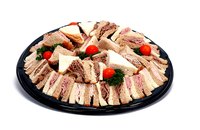 An afternoon tea or reception often includes finger sandwiches for guests to nibble without the aid of cutlery. These attractive tidbits, shaped in small triangles, squares, circles or fingers, add a touch of glamor to the event with their trimmed crusts and artistic arrangement on serving trays. Create a beautiful work of art with a colorful and tasteful variety of pimiento cheese, watercress, cucumber and tuna- or meat-salad finger sandwiches for your event.
Things You'll Need
Grape or cherry tomatoes
Tiered tray
Line your tray with pretty food-grade doilies or fresh curly lettuce and group your sandwiches by outlining tray areas with grape or cherry tomatoes. For a stunning presentation, divide a round tray into two parts, curving the dividing tomatoes for a yin-yang or paisley effect.
Alternate individual white-bread and dark-bread finger sandwiches in rows or in circles. This creates an attractive checkerboard effect.
Set finger sandwiches in long rows of white and dark on a rectangular tray. If you have white bread, rye bread, whole wheat and pumpernickel, this will create a variegated effect if the pattern is repeated.
Set triangular finger sandwiches close together on edge with one point upward or overlapping on their sides.
Arrange your finger sandwiches on a tiered serving tray for an elegant presentation.