Things You'll Need
Doilies

Lettuce

Grape or cherry tomatoes

Tiered tray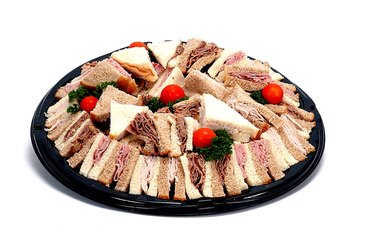 An afternoon tea or reception often includes finger sandwiches for guests to nibble without the aid of cutlery. These attractive tidbits, shaped in small triangles, squares, circles or fingers, add a touch of glamor to the event with their trimmed crusts and artistic arrangement on serving trays. Create a beautiful work of art with a colorful and tasteful variety of pimiento cheese, watercress, cucumber and tuna- or meat-salad finger sandwiches for your event.
Step 1
Line your tray with pretty food-grade doilies or fresh curly lettuce and group your sandwiches by outlining tray areas with grape or cherry tomatoes. For a stunning presentation, divide a round tray into two parts, curving the dividing tomatoes for a yin-yang or paisley effect.
Step 2
Alternate individual white-bread and dark-bread finger sandwiches in rows or in circles. This creates an attractive checkerboard effect.
Step 3
Set finger sandwiches in long rows of white and dark on a rectangular tray. If you have white bread, rye bread, whole wheat and pumpernickel, this will create a variegated effect if the pattern is repeated.
Step 4
Set triangular finger sandwiches close together on edge with one point upward or overlapping on their sides.
Step 5
Arrange your finger sandwiches on a tiered serving tray for an elegant presentation.
Tip
Make separate trays for each type of sandwich filling if your event is large enough.
Intersperse relish items, such as dill pickles, gherkins, green olives and black olives, among the sandwiches on the tray. Set them in small containers so their juices do not absorb into the nearby sandwiches.
For added interest, use cookie cutters to create odd-shaped sandwiches. Cut finger sandwiches in the shape of playing-card suits, bells, flowers, stars, pumpkins or butterflies, depending on the occasion.
Warning
Finger sandwiches are best when eaten soon after they are made. If they must be held, cover them first with a barely damp paper towel and then with foil or plastic wrap. Keep the sandwiches chilled until serving time.