Things You'll Need
Water

Cloth

Paint thinner

Antiquing glaze

Paintbrush

Antique frame

Sandpaper

Paint

Cracking treatment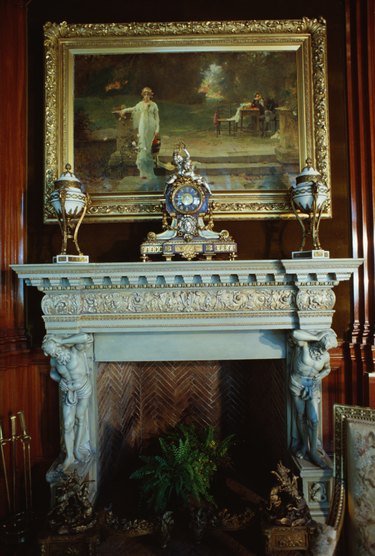 Sometimes a new painting can look out of place in a traditional, antique-inspired room. Whether you have painted the piece yourself or you are looking to make a store-bought piece look more weathered, you can apply one or more antiquing effect to the painting that will make it look worn. Before beginning this project, test the effects on another acrylic painting that you do not mind damaging. This will allow you to practice your technique without damaging the painting.
Step 1
Splash the painting with water at random spots over the piece's surface. Mop off the water gently with a cloth, or leave some visible drips over the surface. The look of water damage is easiest to achieve while the paint is still wet. Acrylic is a water-based paint, so exposure to water will dilute the pigments and give the illusion of being faded and worn like an antique piece.
Step 2
Dab a cloth with paint thinner. Lightly press the thinner onto areas of the painting. This is a more pronounced way to remove pigments than with water, so use sparingly to not lose the integrity of the painting completely. Follow with a lightly dampened cloth, then a dry cloth to stop the paint thinning process once it has achieved your desired color saturation.
Step 3
Cover the entire painting with an antiquing glaze. This can be found at many art supply stores. With a thick brush, coat the entire surface of the painting with a layer of brown-colored antiquing glaze. Let the glaze sit for several minutes, or as indicated on the particular brand's packing. With a clean, dry cloth, mop up the glaze -- lightly in some areas, more in others -- until the entire piece looks aged.
Step 4
Leave the painting out in the sun or in a sunny sill facing out. Over time, this will have a bleaching effect on the look of the painting and make it look older than it is. This will give the painting a more authentic aged look, but it will take longer to accomplish.
Step 5
Frame the painting in an antique frame, or one that looks antique. To make the frame look worn, scuff it lightly with coarse-grit sandpaper. Paint with a base coat and let dry. Then cover with a crackling antique treatment. As the paint dries, it will peel apart in some areas and give the look of being aged.