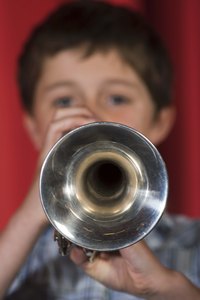 Making paper trumpets is an educational activity that can be organized with no prior planning. Paper trumpets are similar to their brass counterparts in appearance and sound, and made with common household items. It is a craft suitable for children 3 to 10 years of age and only requires limited parental assistance. It is especially recommended for children who enjoy music, crafts and pretend play. Children enjoy both the creation process and the act of playing the paper instrument. Making paper trumpets provides an opportunity to learn about sound waves. It also supports the development of fine motor skills in younger children.
Things You'll Need
Plastic soda bottle
Paper towel tube
Making tape or duct tape
1 sheet of construction paper
Sharp knife
Use the sharp knife to cut the spout off of the plastic soda bottle. This step should be performed by the supervising adult. The spout will be used as the mouthpiece of the trumpet. The wider part of the bottle will connect to the paper towel tube; it should be slightly wider than the tube.
Tape the mouthpiece to the cardboard tube with the narrow end facing outward. Wrap the tape around several times so that no air escapes.
Twist the construction paper into the shape of a funnel.
Fit the narrow part of the funnel over the open end of the cardboard tube and tape the paper so that it keeps its shape.
Tape the construction paper funnel to the open end of the cardboard tube. Wrap the tape around several times for a strong connection.
Blow through the spout of the trumpet to make a sound. Try vibrating your lips to make different tones.