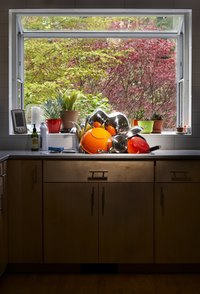 You may notice that your KraftMaid drawer fronts are uneven. After years of use, the drawer runners can bind making it difficult to open and close the drawer. With a few simple adjustments, your KraftMaid Drawers will be as good as new. KraftMaid drawers come equipped with adjustment tabs, dials and self-adjusting suspension.
Things You'll Need
Phillips-head screwdriver
Drawer Fronts on Wooden Box Drawers
Measure each side of the drawer front to determine if the panel is uneven.
Locate the adjustment tab on the side of the drawer box that hangs lower.
Push the tab toward the rear of the drawer to raise the front panel.
Drawer Fronts on Metal Box Drawers
Take out the cover plate inside the drawer box.
Locate two screws inside the box. One screw will raise or lower the box. The other screw adjusts the box sideways.
Determine the appropriate screw you need to adjust.
Adjust the panel to the correct position.
Adjust Sidemount Drawer Runners
To eliminate sticking rollout trays, check the screws in the runner.
Also check the screws in the cabinet adjacent to the drawer.
Determine if the screws are loose.
Tighten the screws to avoid rubbing against the runner or cabinet.
Adjust Undermount Drawer Runners
Find the orange lever on the front retainer clips located on the underside of the drawer.
Push the lever back to raise the drawer to the desired height.
To lower the drawer, locate the gray levers.
Pull the levers forward to lower the drawer.