Just as statement furniture can infuse a pop of color into your living room, an eye-catching backsplash can add intrigue to your kitchen. Details matter in the kitchen: it's the place where you might share a warm conversation over a glass of wine, pour your heart and soul into a dinner for loved ones or teach your kids how to cook for the first time. So it only makes sense that the most beloved room in the house gets the embellishment it deserves! Whether you're a foodie who loves spending time with recipes, or you're someone who embraces creativity in design, take a look at these five gorgeous backsplash ideas for a bit of inspiration.
Go for Natural Materials
Raw, exposed brick is edgy: it can do a great job of balancing out modern cabinets and appliances with more texture and color. When slightly white-washed and weather-worn, a brick backsplash can set the perfect farm-to-table vibe in any kitchen. Bonus? It'll go with any artwork you choose to complete the dining space.
Choose a Decorative Pattern
A color-blocked kitchen is just begging for a backsplash made with tiles that feature an ornate pattern. For a bohemian feel that's very au courant, add Moorish-style tiles in a shade that complements your color scheme. Want to up the boho factor? Add in decorative details like a wooden counter top, ceramic dinnerware and a brushed copper vase to complete the look.
Never Doubt Time-Honored Subway Tile
A choice that straddles the line between utilitarian and glamorous, subway tile works if you're looking to brighten up your kitchen with a touch of tradition. The key to a standout subway tile backsplash is to use darker grout to outline the tiles and make them pop. This luxurious kitchen features shiny tiles, but you can also purchase them in a matte finish that's more reminiscent of an antique metro setting.
Try a Quick DIY That Makes an Impact
Saturday afternoon DIYers, this one is for you! Pressed tin is a wonderfully inexpensive and easy material to use when you're looking to make a change that doesn't include caulking a backsplash tile by tile. Pick up several of these panels at your local hardware store and revamp your kitchen backsplash with a dramatic, intricate design. Then, subdue the rest of your decor to really make this backsplash shimmer.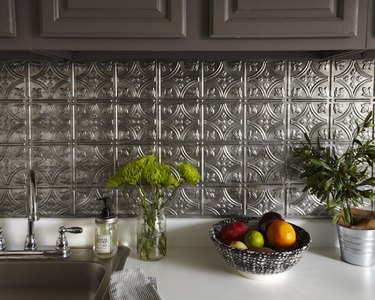 Stick With Horizontal Silhouettes
If your kitchen is on the smaller side (hello, urban dwellers!), it's wise to gravitate toward materials that will give your walls the illusion of width, like these reclaimed wooden boards. A clean white or cream shade like the one below looks effortless and is adaptable to nearly any kitchen aesthetic. Mount them horizontally to give the appearance of an expansive space, and adorn your kitchen with minimalist touches: the black pendant lights, black stool and solitary vase of leaves keeps the overall feel simple and satisfying.