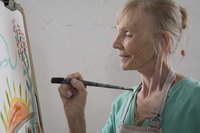 If you paint portraits or landscapes, you are familiar with muted earth colors, such as Burnt Sienna. Burnt Sienna adds a warm, tan color to your painting, and it is ideal for skin tones or painting objects like rocks, mountains and trees. If you run out of Burnt Sienna paint, you do not need to buy more at the store. You can make Burnt Sienna paint yourself if you blend a few basic colors together.
Things You'll Need
Place a dollop of yellow-colored Gamboge paint on your palette. Add half that amount of Permanent Rose paint, as well as a small dab of Cobalt Blue. Blend the mixture together until it turns slightly orange to make Burnt Sienna paint.
Put some Quinacridone Gold paint on the palette. Blend in half that amount of Alizarin Crimson paint to produce a warmer-colored Burnt Sienna.
Add a few drops of the pinkish Opera paint to a dollop of Quinacridone Gold to make a transparent red-orange color that resembles Burnt Sienna. This color, however, is much brighter than the usual Burnt Sienna color.