Things You'll Need
Rubber mat

Dish washing liquid

Vinegar

Salt

Flour

Soft cloths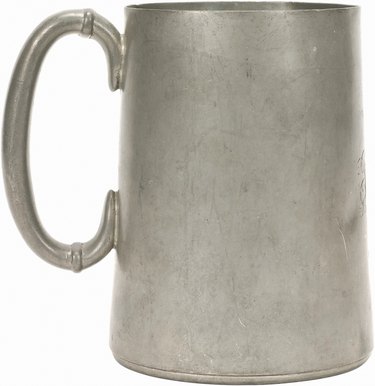 Beer steins are centuries-old drinkware. Pewter is just one material used to make beer steins. Pewter is a metal that is easy to clean, although most experts caution against using dishwashers to clean pewter. There are three types of finishes for pewter steins – polished, satin and oxidized. Polished silver has a glossy look, satin is a matte finish and oxidized has an antique or aged look. Cleaning the pewter beer stein correctly is the best way to keep it in good condition.
Step 1
Place a rubber mat on the bottom of the sink.
Step 2
Fill half the sink with warm water.
Step 3
Add 4to 5 drops of dishwashing liquid.
Step 4
Place the pewter beer stein in the soapy water. Use a sponge to clean the beer stein.
Step 5
Soak the beer stein for three to five minutes if there are tough stains.
Step 6
Rinse off the beer stein in warm, running water.
Step 7
Dry the stein with a clean soft cloth. Buff with the same cloth to polish the pewter.
For Pollished Pewter Beer Steins
Step 1
Pour 1/2 cup vinegar into a bowl.
Step 2
Add 1 tablespoon salt into the bowl.
Step 3
Add enough flour to the mixture to create a paste.
Step 4
Dip a soft cloth into the paste. Apply it to the beer stein.
Step 5
Keep the paste on the pewter stein for five to 10 minutes, depending on how much dirt and grime there is.
Step 6
Rinse off the paste in warm, running water.
Step 7
Dry with a soft cloth and buff.