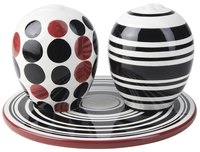 If your ceramic pieces are dated or unattractive and you want to refresh them, you can change their colors. Typically, ceramics are treated with glazes, which are colored solutions applied before the second firing of the ceramics, and make the vitrified clay impermeable. To change the color you need to remove the glaze. You can reapply glazes in new colors, but this involves a kiln firing. If you don't have access to a kiln, however, you can still add new colors to change the appearance of your ceramics.
Things You'll Need
Dust mask
Goggles
Sandpaper
Detergent
Sponge
White glue
Paintbrush
Acrylic paints
Varnish
Sand your ceramics using coarse-grit sandpaper, to remove the glaze. Wear a dust mask and goggles to avoid inhaling the particles resulting from sanding. Perform circular movements until the glossy paint is gone and the surface of the ceramics is rough. Sand them lightly with fine-grit sandpaper to make the surface smooth.
Clean the ceramic pieces with a wet sponge dipped in diluted liquid detergent to remove the dust from the sanding. Wipe with a wet sponge to remove the detergent and allow them to dry.
Seal the ceramics with a solution you mix using equal amounts of white glue and water.
Get a painting palette, or if you don't have one, use the top of a plastic container or a piece of cardboard. Mix the acrylic colors on your palette to obtain the desired shades.
Apply the colors to your ceramic pieces. Colors may change after drying so wait to see if you are happy with the color. If the color is suitable for your project, apply another layer after the first is completely dry. If you are not satisfied with the color, cover the ceramics with a layer of white, allow it to dry and apply a different shade in two to three layers.
Varnish the ceramics. Use glossy varnish if you prefer a look that is similar to ceramic glazes, or opt for a matte finish. Apply two layers of varnish, allowing it to dry between coats.