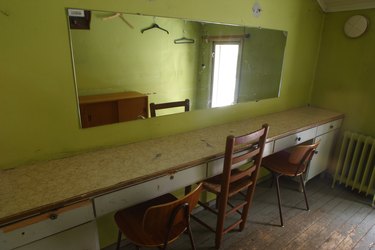 Decorating around a mirror can be trickier than decorating a plain wall because everything in the room will be reflected. That's especially true when an entire wall is covered with a mirror. Make the best of your mirror-covered wall by decorating the mirror and the space around it. The mirror can become the focal point of the room, or simply enhance the rest of your decor. Use your favorite style, images, patterns, colors or tie a decorating theme in with the mirror.
Step 1
Add a colorful border around the mirror. Paint the wall that peeks out from behind the mirror a bold color, install decorative molding around the mirror to make it look like a framed mirror or glue decorative tiles, seashells or other items around the edges of the mirror.
Step 2
Hang curtain panels or fabric in front of the mirror or on the sides to cover a part of the mirror. Installing decorative curtain rods or a ceiling-mounted sliding system will allow you to show off the mirror or hide it when you don't want to see it. Sheer panels will lessen the effect of the mirror, while still allowing bits and pieces to shine through.
Step 3
Install a picture rail above the mirror to hang large pictures or pieces of artwork. You can hang the frames from hooks in the ceiling if there is no wall space above the mirror, .
Step 4
Decorate the mirror with window frost. Use stencils to add designs that go with the season or complement your decor, such as snowflakes during the winter or hearts for Valentine's Day. Alternatively, add a patina to the surface of the mirror so it's still shiny but doesn't give off a reflection.
Step 5
Stick window decals on the mirrors. Use images, words or designs that complement the decor in the room. Use dry erase markers to write quotes, words or draw designs on the mirror if you have nice penmanship or artistic abilities.
Step 6
Position a large piece of furniture in front of the mirror, such as a bookcase with an open back or a sofa table. Decorate the furniture with attractive items that will reflect off the mirror, such as candles, flowers or pottery.