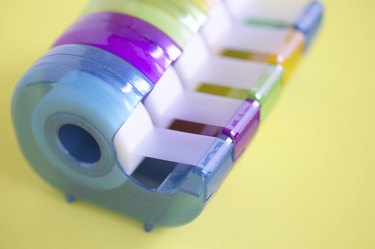 When hanging artwork or other items on a wall, you may want to avoid using nails or leaving marks, whether you own your own house, are renting or are decorating an office. Nails cause damage to the drywall, and if you are renting, you may be charged for repairs. Luckily, there are other ways to get stuff to stick to painted walls, including using hooks, putty, tape and more.
Method One: Use Adhesive Hooks
One of the best ways to hang items on painted walls without resorting to hammers and nails and without damaging the paint is to use adhesive hooks. You can purchase these simple household items at hardware stores, big box stores (such as Target and Walmart) and online.
Follow the manufacturer's instructions. Typically, these steps include using a double-sided sticky strip, with one side attaching to the hook itself and the other to the wall. If the manufacturer's instructions direct users to wait a certain amount of time before hanging anything from the hook, be sure to allow at least that amount of time. Trying to add weight to the hook before the adhesive has had enough time to stick entirely can cause the hook to fail.
Method Two: Use Double-Sided Tape
Double-sided tape is ideal for hanging paper items, including pictures and posters. You can buy this tape at any office supply or big box store. Stick one side of the tape to the back of your item that you want to hang and the other side to the wall. Double-sided tape works exceptionally well on concrete or cinder block walls, common in many dorm rooms in colleges around the country.
The downside to using double-sided tape is that, while it comes off painted walls relatively easily, it will still stick to the back of your paper item. You can try carefully peeling it off, but you might not want to use this method on anything valuable.
Another option for hanging items on painted walls is to use putty. Stick it to the back of the item you want to hang, and then press it to get it to stick onto the wall. Putty works as well or better than double-sided tape because it provides similar adherence strength but is less likely to stick to your item if you have to take it down.
Some types of putties can leave a stain on certain types of paint. You might want to stick a small piece in an inconspicuous spot on the wall, leaving it for a week to see if any damage occurs before using it anywhere else.
Method Four: Use Command Strips
Command strips are very similar to other adhesive hooks, but instead of sticking to a hook, they adhere directly to the object you want to hang. This method works quite well for hanging framed pictures or posters. It's also suitable for a corkboard or magnetic board that you can then decorate with photos and other items instead of attaching those directly to the walls.