Things You'll Need
Size 21 sewing needle

Heavy duty sewing machine

16 oz. industrial grade thread

Washable fabric marker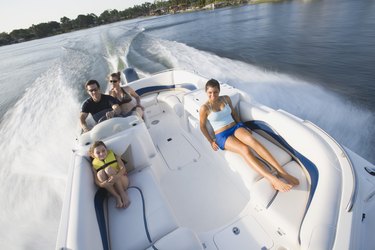 Customize your boat by replacing or creating new upholstery for your boat seats. You can match the vinyl for the seats to the boat or select a contrasting color. Monograms can be sewn into the seats for a richer, personalized look. Replacing old seat covers also makes the boat more visually appealing if you intend to sell it or if you just need to update the look so you're no longer ashamed to invite guests on board.
Step 1
Gather all the pieces you have cut to make the seat. The size and dimensions of the seat will depend on the size, style and type of seats you are covering. Where possible, a pattern can be made by removing old seat upholstery. If no upholstery was present, a pattern must be made using the dimensions of the seat and cushions.
Step 2
Install a size 21 needle into your sewing machine.
Step 3
Thread the sewing machine per the manufacturer's instructions. Depending on the type of machine you have, you may need to wind a bobbin before you thread the needle or the machine may thread the bobbin for you after the thread is loaded. Whatever type of machine you have, make sure you have a bobbin fully loaded with matching thread installed.
Step 4
Sew any designs, quilting patterns or other decorative elements onto the flat sections of vinyl first. If necessary, mark the designs with a washable fabric marker before sewing.
Step 5
Turn the piece over so that the right side, or the side you want to sit on, is facing up.
Step 6
Lay the piping along the outer edge of the seat, lining up the seam edges so they are even with each other.
Step 7
Lay the side piece of fabric, right side down, on top of the piping. Line up the edges so that all three are even.
Step 8
Sew as close to the piping as possible, pivoting the entire project at each corner. Continue sewing until the entire side piece has been attached. Back stitch at the end for stability.
Step 9
Place the cover on top of the seat cushion and allow the sides to drape over the edges, pulling them just tight enough that they overlap the bottom edge.
Step 10
Staple the excess vinyl to the marine grade plywood on the bottom of the seat, pulling the fabric tight without squeezing the foam cushion. Place extra staples around the corners for stability.